Resources
2016-2019 National Agreement
Select past National Agreements and arbitration awards
Description
NALC Collective-Bargaining History
Contract Term
Type of Settlement
Bargaining Structure*
1971-1973
Negotiated settlement
JBC: NALC, APWU crafts, NPMHU, NRLCA
1973-1975
Negotiated settlement
JBC: NALC, APWU, NPMHU, NRLCA
1975-1978
Negotiated settlement
JBC: NALC, APWU, NPMHU, NRLCA
1978-1981
Healy Award (partial arbitration)
JBC: NALC, APWU, NPMHU
1981-1984
Negotiated settlement
JBC: NALC, APWU
1984-1987
Kerr Award (arbitration)
JBC: NALC, APWU
1987-1990
Negotiated settlement
JBC: NALC, APWU
1990-1994
Mittenthal and Valtin Awards
JBC: NALC, APWU
1994-1998
Stark Award (arbitration)
NALC
1998-2001
Fleischli Award (arbitration)
NALC
2001-2006
Negotiated settlement
NALC
2006-2011
Negotiated settlement
NALC
2011-2016
Das Award (arbitration)
NALC
2016-2019
Negotiated settlement
NALC
* In many rounds of bargaining, two or more unions formed a Joint Bargaining Committee (JBC) to negotiate with the Postal Service. The NALC has negotiated on its own since 1994.
Joint Contract Administration Manual (JCAM)

The NALC is pleased to announce that the 2014 JCAM is available online by clicking here.
The 2014 JCAM has changed the way contract language appears to make it easier to photocopy and scan. It now is contained in text boxes throughout the document instead of being shaded in blue as was true in previous editions.
The JCAM—
contains the authoritative, agreed-upon interpretations of the National Agreement. The National Association of Letter Carriers and the United States Postal Service have agreed at the national level that this is the definitive interpretation of the National Agreement.
should be used by the local parties to help resolve disputes at each step of the grievance procedure.
The National Association of Letter Carriers and the United States Postal Service are in the process of publishing the 2014 JCAM.
As in the past, the parties have agreed to share the cost of providing a printed copy of the new JCAM to each office.
A printed copy is also sent to each NALC branch upon publication.
CCA Resource Guide
The NALC City Carrier Assistant Resource Guide was created to assist both new CCAs and experienced CCAs alike. It thoroughly covers the letter carrier job and the rights and benefits afforded to CCAs. The guide also provides information and guidance for CCAs during the process of conversion to full-time career status.
Dispute Resolution Process
The grievance process is incorporated into Article 15 of the National Agreement between NALC and USPS.
Step 4 & MRS - NALC Materials Reference System, M-number documents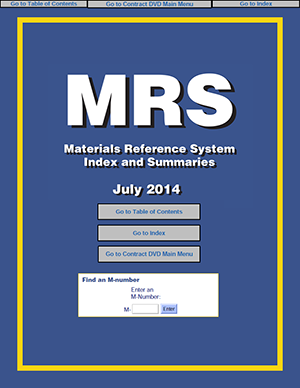 The NALC's Materials Reference System (MRS) Index and Summaries (PDF) has been updated and contains summaries of key contractual documents and direct links to M-number documents (through M-01838) as well as C-numbered arbitrations. It also includes Defenses to Discipline. The July 2014 MRS (PDF) is a prime resource for national business agents, regional administrative assistants, NALC branch officers and shop stewards in their duties of enforcing the collective bargaining agreement.
NALC members may access the 2014 MRS Index (PDF) by clicking on the image at right or save it by right-clicking this link and choosing Save.
You can also find key MRS documents here.
To find a specific M-numbered document, use the box below. Enter the number (numbers only—don't insert an "M") and click the Submit button:
Arbitration
NALC Arbitration Program
NALC publishes a unique Arbitration Program. This software enables contract researchers to search quickly through NALC's database of thousands of arbitration awards, which are all contained on a single DVD. To learn more about the program and to see arbitration awards of interest, click here.
NALC Contract Talk
Contract Talk is a regular column in NALC's national magazine, The Postal Record. Written by members of the NALC Contract Administration Unit, the column gives advice on recent national settlements and selected issues of interest to NALC contract enforcers. The archive of Contract Talk columns can be found here.
NALC Activist
The NALC Activist is a quarterly local leadership publication intended for shop stewards, branch officers and all local NALC leaders. The archive of NALC Activists can be found here.
CAU White Papers
The contract administration unit occasionally publishes "white papers," in-depth analyses of important contract issues. The white papers are available below and also included in the Materials Reference System.
Overtime, Staffing, and Simultaneous Scheduling — Explains how NALC representatives can challenge the Postal Service's widespread failure to staff facilities sufficiently, a failure that has led to numerous violations of the contractual overtime rules. Management in many places has consistently worked letter carriers beyond the contractual maximums of 12 hours per day and 60 hours per week. In addition, in many facilities the Postal Service has engaged in the "simultaneous scheduling" of overtime for ODL and non-ODL letter carriers. The white paper should help NALC representatives to: (1) prepare challenges to both types of overtime violations, and (2) seek remedies requiring the Postal Service to comply with the contract by staffing its facilities with sufficient letter carriers. It reviews the negotiating history of the Article 8 overtime provisions, and shows the fallacy of the Postal Service's "operational window" defense, which USPS has often offered as justification for its pattern of overtime violations.
USERRA Rights — Outlines the rights of letter carriers who join the military or who are called up to active military service. These rights are guaranteed by the Uniformed Services Employment and Reemployment Act of 1994 (USERRA).
Policing Article 12 Withholding — Explains several withholding provisions of Article 12. The paper explains when withholding is justified, when it is a violation of the National Agreement, and how to investigate, document and handle withholding grievances.
NALC Guide to Identifying Intentional False Editing of Clock Rings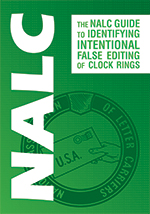 The NALC Guide to Identifying Intentional False Editing of Clock Rings was created to assist union representatives when investigating grievances concerning clock ring edits that impact letter carriers' pay. The guide provides instruction on reading the TACS Employee Everything Report, examples of improperly edited clock rings, and includes a grievance starter to help build successful case files.
Uniform allowance
Under the 2016-2019 National Agreement, the uniform allowance for career and non-career carriers will rise by $44 from its 2015 level of $420 over the course of the agreement:
$441 effective November 21, 2017
$452 effective November 21, 2018
$464 effective November 21, 2019
Once a CCA has completed 90 work days, or has been employed for 120 calendar days, the CCA will be provided with an annual uniform allowance equal to the amount provided to career carriers, as indicated above.
Family and Medical Leave Act
Click here for forms and information about the Family and Medical Leave Act (FMLA)
Union member rights and officer responsibilities under the LMRDA
The Labor-Management Reporting and Disclosure Act (LMRDA) guarantees certain rights to union members and imposes certain responsibilities on union officers.
The Office of Labor-Management Standards (OLMS) enforces many LMRDA provisions while other provisions, such as the bill of rights, may only be enforced by union members in federal court.