Resources
2019-2023 National Agreement
Select past National Agreements and arbitration awards
Description
NALC Collective-Bargaining History
Contract Term
Type of Settlement
Bargaining Structure*
1971-1973
Negotiated settlement
JBC: NALC, APWU crafts, NPMHU, NRLCA
1973-1975
Negotiated settlement
JBC: NALC, APWU, NPMHU, NRLCA
1975-1978
Negotiated settlement
JBC: NALC, APWU, NPMHU, NRLCA
1978-1981
Healy Award (partial arbitration)
JBC: NALC, APWU, NPMHU
1981-1984
Negotiated settlement
JBC: NALC, APWU
1984-1987
Kerr Award (arbitration)
JBC: NALC, APWU
1987-1990
Negotiated settlement
JBC: NALC, APWU
1990-1994
Mittenthal and Valtin Awards
JBC: NALC, APWU
1994-1998
Stark Award (arbitration)
NALC
1998-2001
Fleischli Award (arbitration)
NALC
2001-2006
Negotiated settlement
NALC
2006-2011
Negotiated settlement
NALC
2011-2016
Das Award (arbitration)
NALC
2016-2019
Negotiated settlement
NALC
2019-2023
Negotiated settlement
NALC
* In many rounds of bargaining, two or more unions formed a Joint Bargaining Committee (JBC) to negotiate with the Postal Service. The NALC has negotiated on its own since 1994.
Joint Contract Administration Manual (JCAM)
The March 2022 JCAM is now available here. All previous versions of the JCAM should be replaced with the March 2022 version.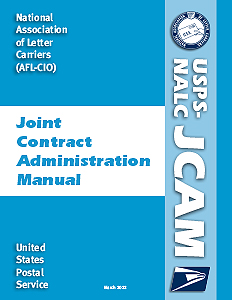 Click the image to open the JCAM
The JCAM—
contains the authoritative, agreed-upon interpretations of the National Agreement. The National Association of Letter Carriers and the United States Postal Service have agreed at the national level that this is the definitive interpretation of the National Agreement.
should be used by the local parties to help resolve disputes at each step of the grievance procedure.
The JCAM is in the printing process. A copy will be sent to each office where city letter carriers are employed. Additional copies will be made available for purchase from the NALC store after printing is complete.
2014 JCAM

The 2014 JCAM is available online by clicking here.
Letter Carrier Resource Guide
The updated 2022 Letter Carrier Resource Guide is on its way! This will be the updated version of its predecessor, the 2019 Letter Carrier Resource Guide. The revised guide will include the most up-to-date information on letter carriers' rights and benefits as they progress from city carrier assistant to career status. The guide also contains an array of information related to NALC membership, activities, and other topics important to letter carriers. Stay tuned for future updates on when and how to order the new and improved 2022 Letter Carrier Resource Guide!
The 2019 Letter Carrier Resource Guide is available here.
Materials Reference System (MRS)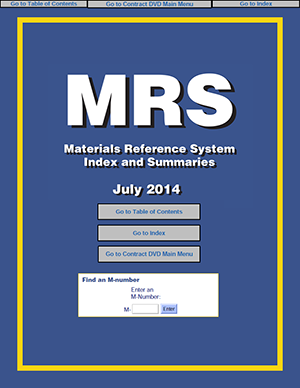 The NALC's Materials Reference System (MRS) Index and Summaries (PDF) contains summaries of key contractual documents and direct links to M-number documents (through M-01904) as well as C-numbered arbitrations. It also includes Defenses to Discipline. The July 2014 MRS (PDF) is a prime resource for national business agents, regional administrative assistants, NALC branch officers and shop stewards in their duties of enforcing the collective bargaining agreement.
NALC members may access the 2014 MRS Index (PDF) by clicking on the image on the right or save it by right-clicking this link and choosing Save.
You can also find key MRS documents here.
To find a specific M-numbered document, use the box below. Enter the number (numbers only—don't insert an "M") and click the Submit button:
NALC Contract Talk
Contract Talk is a regular column in NALC's national magazine, The Postal Record. Written by members of the NALC Contract Administration Unit, the column gives advice on recent national settlements and selected issues of interest to NALC contract enforcers. The archive of Contract Talk columns can be found here.
NALC Activist
The NALC Activist is a local leadership publication intended for shop stewards, branch officers and all local NALC leaders. The archive of NALC Activists can be found here.
NALC Guide to Identifying Intentional False Editing of Clock Rings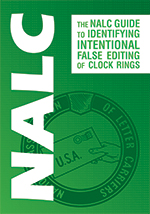 The NALC Guide to Identifying Intentional False Editing of Clock Rings was created to assist union representatives when investigating grievances concerning clock ring edits that impact letter carriers' pay. The guide provides instruction on reading the TACS Employee Everything Report, examples of improperly edited clock rings, and includes a grievance starter to help build successful case files.
Uniform allowance
Under the 2019-2023 National Agreement, all letter carriers will receive a 5% increase in their uniform allowance in 2021 and a 2.5% annual increase in 2022.
May 21, 2021: $487 plus an additional $113 for newly eligible carrier
May 21, 2022: $499 plus an additional $116 for a newly eligible carrier
The newly eligible credit may be used only once, but the current procedures for employees transferring from one allowance category to another (e.g., from CCA to career carrier) will be continued.
CCA carriers are entitled to the same uniform allowances provided to career carriers, but they do not receive the additional amount for the "newly eligible" until they are converted to career status.
Family and Medical Leave Act
Click here for forms and information about the Family and Medical Leave Act (FMLA)
Union member rights and officer responsibilities under the LMRDA
The Labor-Management Reporting and Disclosure Act (LMRDA) guarantees certain rights to union members and imposes certain responsibilities on union officers.
The Office of Labor-Management Standards (OLMS) enforces many LMRDA provisions while other provisions, such as the bill of rights, may only be enforced by union members in federal court.
New member resources
Click here for quick links to resources for new members.
Arbitration
NALC Arbitration Program
The NALC arbitration database is for members interested in contractual research. The database contains over 36,000 awards from national and regional level arbitration which members can download in PDF format. Using the database, members are quickly able to locate and read arbitration awards pertinent to the subject they are researching.
This arbitration program can be accessed by authorized users through the Members Only section of nalc.org. To obtain access to the NALC arbitration program contact your national business agent.
Dispute Resolution Process
The grievance process is incorporated into Article 15 of the National Agreement between NALC and USPS.