Letter Carrier Heroes
2022 Letter Carrier Heroes of the Year
Contact
Christina Vela Davidson,202-662-2489, cdavidson@nalc.org
Letter carriers are in the communities they serve every day and often are the first to notice when something is wrong. They smell smoke, hear someone calling for help or notice something that just doesn't seem right. Often, they are the first to respond and lend a helping hand.
Each year, NALC highlights the special acts of courage and compassion performed by letter carriers who improve—or save— lives along their routes, by recognizing some of them as NALC's Heroes of the Year.
The 2022 Heroes of the Year honorees were selected from more than 100 nominees, whose stories of heroism and community service were published over the course of a year in this magazine, as has been done since 1974.
A panel of independent judges reviewed the stories about heroic and humanitarian acts published in The Postal Record between July 2021 and December 2022 and gathered to determine the winners.
"We are immensely proud of what the heroes being recognized did," NALC President Brian L. Renfroe said. "They represent our country's best in public service. They truly are our heroes."
Information about the 2020, 2021 and 2022 heroes who are honored at the ceremony on May 11 is here.
National Hero of the Year: Christine Cambizaca of Connecticut Merged Branch 20
A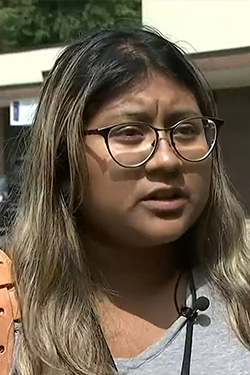 barefoot woman—crying, afraid and struggling to speak—approached city carrier assistant Christine Cambizaca while she was delivering the mail in her truck in Torrington, CT, in August of 2022.
"She had blood on her nose and bruises on her face," Cambizaca said.
"Are you OK?" Cambizaca asked her. "Are you being followed?"
The woman nodded.
Cambizaca, a member of Connecticut Merged Branch 20 who had started on the job only a month earlier, called her supervisor, who told her to call 911, which she did.
The carrier then spotted a man who seemed to be looking for the woman, so she let the victim wait inside her mail truck while she stood outside. The man approached the truck and yelled at her and the woman inside, demanding to be let in, but Cambizaca refused, despite the danger.
"I got scared because I saw a knife in his pocket," she said.
Cambizaca tried to get into the truck through the back door, but the man noticed and also tried to enter the truck that way, so she shut the door again to protect the woman inside. A neighbor heard the commotion and came outside, distracting the man and allowing Cambizaca to get in the vehicle.
From the truck, she saw the man throw the knife at the neighbor, who was not injured. The neighbor picked up the knife and continued to distract the man until police arrived. They arrested the man, and an ambulance took the woman to the hospital. After telling officers what happened, Cambizaca continued on her route.
"I was calm," she said of the incident, "but I was scared."
The suspect is facing six charges, including assault, strangulation and threatening.
For her courage and cleverness in the face of great personal danger, the judges declared Cambizaca the NALC's 2022 National Hero of the Year.
"The young lady risked her life by locking a woman in her truck to protect her from someone who had proven he would assault someone," the judges said."She put her own life in danger—she didn't know what the situation could have developed into. But she thought quickly, on her feet."
"I am excited that I was chosen Hero of the Year," Cambizaca said, but she added that she simply did what needed to be done. The victim, she said, "could have been anybody's daughter or sister. No matter who it was, we should always look after each other."
Humanitarian of the Year: Anthony Picariello of Philadelphia, PA Branch 157
A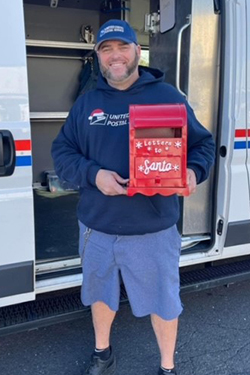 nthony Picariello does his part to ensure that children enjoy what are probably the two favorite holidays among young folks: Halloween and Christmas.
Branch 157 carriers in Philadelphia, PA, where he has delivered the mail for 26 years, know Picariello as "Stitch." He got the nickname as a young child when he had open-heart surgery, and then earned a reputation as an accident-prone boy. Years later, his own newborn daughter had surgery at Children's Hospital of Philadelphia (CHOP), followed by 24 days of recovery time in the neonatal intensive-care unit.
After that experience, he teamed up with another carrier to collect Halloween costumes for children in the oncology unit of the hospital. The daughter of the other carrier, who has since left the Postal Service, had died of cancer at CHOP on Halloween, her favorite holiday, a few years ago. Since that carrier left the job, Picariello has carried on the work of bringing Halloween to the kids at CHOP.
"At the hospital, they set up a makeshift store," he said. "A lot of the cancer patients, the kids can't leave and their families pretty much live there."
The in-house costume store allows the children to choose their costumes without parents having to worry about logistics. "The kids get to pick out their costume and trick-or-treat at the hospital," Picariello said.
Picariello set up a box in the Bustleton Post Office, where he works, to collect donated costumes from postal employees and the community, and he also gathered cash donations to buy more. For Halloween 2022, the effort yielded 337 costumes of all kinds and sizes; many more were bought with the cash donations.
Once Halloween is over, many children's thoughts soon turn to Christmas. For the past two years, Picariello, who has two young children of his own, set up a special mailbox in the post office lobby for letters to Santa, and answered each one.
At a table next to the box, he offered children little gifts such as stickers and candy, and included templates and pens to make writing to Santa easy. He personalized each response from Santa to match the child's wishes—though he was careful never to promise that a child would get the gifts requested. He fancied up the letters from Santa with a special North Pole wax seal and sent them by mail.
When word got out about the mailbox, he was swamped with letters—151 last Christmas, for example. But that didn't slow Picariello down. "I was up until 2 or 3 in the morning almost every night writing back to them," he said.
The judges were impressed by Picariello's efforts, naming him NALC's 2022 Humanitarian of the Year.
"To continuously give to our youth is a special action and it takes a special heart to do that. To continuously give speaks volumes for a person's character. Not only did he go out of his way to have 337 Halloween costumes for the children at the hospital when they can't go out and get costumes themselves or trick-or-treat, he had the time and the heart to think about the same kids during Christmastime. He took time to respond to each one of those letters," the judges said.
"Just the act of continuously giving and continuously thinking of others and our youth is a very special thing," they added.
Picariello said he was "honored to be recognized," but he doesn't feel like a hero. He just likes helping youngsters. In addition to his holiday volunteer activities, he coaches softball, a sport his children enjoy. "All my free time is helping my kids and other kids," he said. "It's one of my passions."
Carrier Alert Award: Christopher Lippy of Harrisburg, PA Branch 500
A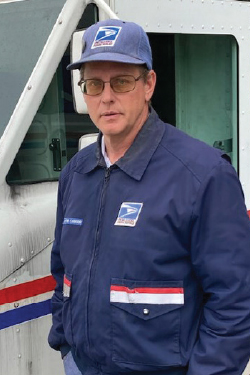 lmost all heroic letter carriers will tell you that the key to what they accomplished was being alert. Sometimes that means smelling smoke at a house fire or noticing that yesterday's mail hasn't been collected from an elderly resident's mailbox. For Harrisburg, PA Branch 500 member Christopher Lippy, it was getting a second change of address (COA) form.
"It was early December," he said, when he received the COA for the wife of a married couple on his route. "[I got one] for her first, and I thought maybe [it was for] Christmas," the 33-year carrier said. "Maybe she did it so Christmas presents would go somewhere else."
When Lippy got a second COA, this time for the husband, he took action.
Lippy went up to the door and "tipped them off" about the temporary requests. Both customers said they hadn't placed the requests. The carrier explained that he also had noticed a significant drop-off in the amount of mail he was delivering to them and suggested that they may have been the victims of mail fraud.
"We figured out [that the COAs] were phony," he said.
After an investigation, Lippy's hunch was proven correct—someone had placed the requests through an online form and had been collecting their forwarded mail.
The customers reached out to the post office, thanking the carrier for his attentiveness, saying, "We are grateful Chris picked up on it early, or even more damage would have been done."
For that attentiveness and compassion, the judges declared Lippy NALC's 2022 Special Carrier Alert Hero of the Year.
"He put two and two together," the judges said. "He was very close to what was going on with the married couple and laser-focused on his customers."
"I'm happy about it," Lippy said about being named the winner. "It's nice to be recognized."
Unit Citation Award: Casey Ritchie, Meagan Sperling, Eric Beu and Jeremiah Grant of Oklahoma City, OK Branch 458
R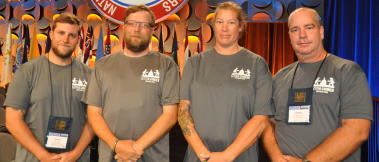 eturning to Chicago's McCormick Place Convention Center following lunch on Aug. 10, four Oklahoma City Branch 458 delegates to the 2022 NALC national convention saw two cars driving erratically in front of the convention center.
"We heard a commotion between two vehicles," carrier Eric Beu said. The cars were honking at each other and driving recklessly.
"It looked like road rage," added Branch 458 member Casey Ritchie.
They watched as the driver of one car abandoned it, still running, in the middle of the street and hopped into the other car, which made a U-turn and sped away. The carriers surmised that it was a stolen car that had been ditched.
Another Branch 458 member, Meagan Sperling, approached the remaining car to investigate—and spotted something shocking.
"There's a baby inside!" she yelled. A 1-year-old boy was strapped into a car seat in the back of the vehicle.
The fourth member in the group, Jeremiah Grant, already had begun to call 911, but the finding of the child made the call more urgent. With Ritchie relaying their location to Grant to tell the police dispatcher, Sperling looked after the child. Beu reached in and turned on the car's hazard lights, while Sperling, concerned about the child's safety, took the toddler out of the car and held him.
Chicago police already had been searching for the car with the child inside, and officers arrived quickly with the boy's father. Sperling handed the boy over to the father and, after the four carriers gave their statements to police, they went back to the convention center floor.
Beu previously had been recognized as a 2020 NALC Hero in the same category after he and another carrier from the same branch had helped a lost, hungry man who was blind find his way home.
The judges were impressed by how the four carriers quickly jumped into action and did all the right things to respond to the situation, each taking a different role.
"Not only did they identify the situation, but they sprang into action to call dispatch, to stay on the line, and also triage to make sure one person was with the child and the others helped with the situation itself," the judges said in bestowing NALC's 2022 Unit Citation Award on the group. "It was just really good teamwork."
"I don't think any of us would consider ourselves heroes," Beu said of the award. "Just a couple of good Samaritans striving to put right what once went wrong."
Eastern Region Hero: Eric Smith of Charleston, WV Branch 531
A
vehicle sitting idle in the road with flashers on caught the attention of Charleston, WV Branch 531 member Eric Smith as he was driving to work on March 20, 2021.
"I drove past it at first, and then I saw the flames" and he felt the heat through his car, Smith recalled. "I turned around after realizing no rescue vehicles were on the scene."
The flames were coming from the house nearest to the parked vehicle, and when the 10-year carrier investigated further, he saw that the driver of the idled car was approaching the residence.
Smith recognized him as a customer from his route, and he recognized the house, too—he knew that three people lived there. The man yelled, "There [are] people in the house!" so they both ran up.
While another passerby called 911, Smith, the first passerby and a neighbor were able to gain entry to the house and decided to brave the smoke and flames to try to rescue the residents: Linda Harris and her two uncles.
"I got the front door open," Smith said, "and there were two people lying [unconscious] behind the door."
Harris and one uncle, Richard, had made it to the front hallway before collapsing from the thick smoke.
"I pulled the lady out, and she was unconscious," the carrier recalled. "You could only go in as long as you could hold your breath. We could only stay in for 30 seconds to a minute at a time. Visibility was extremely low also."
While Smith carried Harris a safe distance from the fire, another person went into the house to pull out Richard, who also was unconscious. "By that time, the whole house was engulfed," Smith said.
The neighbor was unable to pull out the man by himself, due to the heat and thick smoke, so Smith went back into the house. "I went in and managed to get hold of him, and I pulled him closer to the door until I had to catch a breath," he said. "By this time, the house was coming down around us."
Eventually, through a group effort, the four men were able to drag Richard out of the house to a safe distance and begin administering CPR on him until EMTs arrived.
Emergency services airlifted Harris to the hospital. She was the only survivor of the fire and spent 13 days on a ventilator. Richard did not survive, and Harris's other uncle, who had been trapped upstairs, also died.
Harris later spoke to local media about the role of Smith and the three other men. "[They were] complete strangers, except for my neighbor," she told local WSAZ-TV. "I thank them every day; I'm grateful every day for my heroes—my angels."
"Everything happened so fast," Smith said, reflecting on his role in saving his customer. "I just did whatever it took to try and get everyone out. It was instincts—just try to save them," he added.
In naming Smith NALC's 2022 Eastern Region Hero, judges said that "the ability to experience the extreme temperatures and the extreme dangers that you do when you run into a burning building—and to go in a second time to pull someone out when you see that the environment has deteriorated even more—is a true act of heroism and so selfless of him to risk his life to do that."
Though Smith called the award an honor he appreciates, he insisted, "I don't necessarily think that I deserve it over anybody else. I just did what anybody else would do."
Central Region Hero: Sherri Baker of Little Rock, AR Branch 35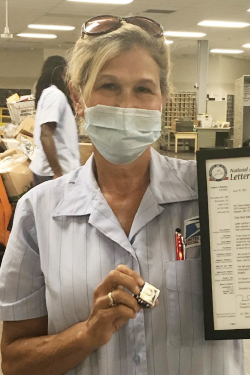 "I heard someone yelling, 'Look out!' " Little Rock, AR Branch 35 member Sherri Baker said.
On April 8, 2021, the 24-year carrier had been helping deliver mail to an apartment complex on another route after finishing her own in the late afternoon. She was walking across the crowded courtyard outside the apartment building.
"There were about 30 people out there, including kids [at a playground]," Baker said—when she noticed a young man walking slightly ahead of her. "I could see the guy walking about 15 to 20 feet away from me," she recalled.
A man jumped out of the passenger side of a vehicle that had pulled up in front of the building and began yelling at the man. As Baker watched, "they shot him twice in the back," she said.
The victim, 24-year-old Deshon Stokes, fell to the ground and rolled over.
Despite the chaos that immediately broke out, Baker rushed to help. "I started yelling and running after the man shooting, telling him to stop," the carrier said. "He turned and looked at me but continued to shoot the young man."
Stokes was shot several times again, this time in the legs, arm and chest. The shooter ran back to the car and jumped in, and the vehicle took off as Baker called 911.
It was a frightening situation, Baker notes. "They shot him eight times in front of me," she said.
Then two men ran up to Stokes, pulling at his pants and robbing him. "I was physically fighting with them to stop," the carrier said.
The carrier followed the 911 operator's instructions, who advised her to let the robbers have what they wanted and focus on her victim.
"I did CPR and everything I could," which she said she was trained to do through her previous restaurant career. "It's something everyone should learn."
Police arrived shortly afterward and told her to stop CPR, as the young man was gone. Paramedics soon pronounced Stokes dead at the scene, with the fatal shot being to his lung.
"I knew he was gone because I couldn't get any breath. I was doing my best to get breaths in him, but his eyes had already locked on mine," she said. "When you're doing CPR and somebody has blood coming up, you know." But the training is, she added, that you keep going until someone relieves you.
"I can say with all my heart I tried my best that day. I wish it was a good story; I wish it would have been a good outcome," she continued. "I am thankful I was there for him, and that he didn't die alone. I'll never forget him, I know that. He will always be with me."
Baker has a son who's just slightly younger than Stokes. "I would hope and pray that if something happened to him, that somebody would be there for him," she said.
The carrier, along with other witnesses, was later interviewed by police—but even two years later, the killer had yet to be apprehended.
The story, including Baker's actions, was covered by many media outlets, such as the local Fox and ABC TV affiliates, and Stokes's brother thanked Baker for her help. The carrier, however, rebuffed any praise for her role.
"I'm not a hero, I'll tell you that," she said. "I just feel like God put me where he wanted me to be for this young man. I did something that I felt, in my heart, that anybody with compassion would do for somebody."
In naming Baker NALC's 2022 Central Region Hero, the judges cited the carrier's bravery. "She put herself not only in harm's way physically, but also emotionally and mentally," they said. "To see something that traumatic and to still have the fortitude and the heroism to put herself in harm's way—[when the shooters] coming back was a distinct possibility, and dealing with someone else who's bleeding and still doing CPR—all of that is just very, very dangerous."
Baker concluded simply: "We have to look out for everyone on our route," she said. "We're not just carrying mail; we're looking out for everyone."
Western Region Hero: Darin Chew of Sun City, AZ Branch 6156
"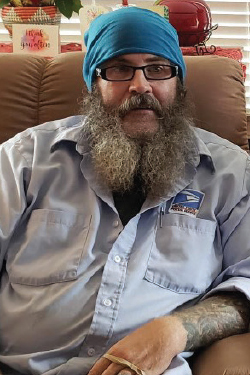 I was coming up the other side of the street for curbside delivery, when I heard someone talking on the other side of the street," Sun City, AZ Branch 6156 member Darin Chew recalled about his route on Dec. 26, 2020, when "I heard [Patti Clark] say, 'He fell and hit his head, and he's not getting up.' "
The 25-year carrier continued on his route, listening intently, until he heard her say, "He's not breathing." At those chilling words, the Marine Corps veteran leaped into action.
Clark's husband, Lee, had been pumping air into his tires when his wife went inside to get something. When Patti came back outside, her husband was lying on the pavement underneath the car, unconscious. Patti quickly called 911, which was the phone call that Chew had overheard.
"I heard her say, 'The mailman's running over,' " the carrier recounted. Lee's body was partially under the car—Chew figured that he must have rolled after falling to the ground, but Lee's position made it difficult to determine the extent of his injuries. "I reached under [the car] and felt for a pulse, but I got nothing," Chew said. He managed to pull the man out from under the car. "Then I tipped his head back and started doing chest compressions," the carrier said.
Chew hadn't performed CPR since his military training, but he was determined to keep Lee alive until paramedics arrived.
"I felt like I could just give him a fighting chance until someone with medical training could come save his life," he said.
He continued doing chest compressions until EMTs reached the scene and took over. Lee was defibrillated three times before his pulse was restored. Paramedics credited Chew's medical attention with saving Lee from possible brain damage, due to the length of time he was without a pulse. Lee was placed in a medically induced coma at the hospital and later underwent heart surgery, but has since completely recovered.
Chew didn't tell anyone and didn't want anyone to know about his heroism until Lee came out of the coma and could talk to his wife. That was complicated by the COVID-19 pandemic, as Patti was not able to go to the hospital and instead spoke with Lee over the computer and phone.
Lee was extremely grateful to Chew for helping save his life. "He put [the story] in the newspaper here," Chew said. "He wants everyone to know." Patti also called the post office to thank Chew for his actions, calling him "a miracle from God."
For going above and beyond, the judges named Chew NALC's 2022 Western Region Hero of the Year.
"His action had a very clear impact on the person that had become injured," the judges said. "In a situation like that, he could have said, 'I don't want to pull this person because I could inflict further damage to an arm or leg.' But he just immediately jumped into action and pulled the person out, saving their life. He didn't think twice about that."
The carrier, however, was modest about his recognition, saying that he was more grateful that Lee ended up being OK than about receiving an award. He said that he still sees the couple often and that every year on Dec. 26 since then they have dinner together to commemorate the day.
"I don't feel like I saved him. I feel like I just kept him alive long enough for the paramedics to do it," he said. Chew hoped that if anything good comes from this recognition it's that when people see someone in need, they'll respond. "Don't do nothing," he added.