NALC membership and dues
Dues for 2022
There will be a biweekly dues increase for the year 2022 due to the increases in letter carrier wages negotiated in the 2019-2023 collective bargaining agreement – including the November 2019, November 2020 and November 2021 general wage increases and the January 2020, July 2020, January 2021 and July 2021 COLAs.
The dues change will take place in Pay Period 1 of 2022 (Dec. 18, 2021 – Dec 31, 2021) and will be reflected beginning with the January 7, 2022, paycheck. As a result, the dues increase will show in the branch dues deposits beginning January 14, 2022.
The minimum dues structure set forth in Article 7, Section 2 (a) of the NALC Constitution is the equivalent of two hours base pay for an NALC Step D letter carrier in the consolidated career City Carrier grade level (Table One) per month. Since dues are deducted biweekly, this amount will be $28.85 for 2022. National retains one-third of this amount, $9.60, and remits the other two-thirds to the local branches (with some withheld for state associations and remitted by National Headquarters to the state associations monthly).
Some branches may have dues that are higher than the minimum dues structure. Also, branches may increase local dues during the year.
Tracking union membership
It is no small task for NALC's national office to keep track of more than a quarter-million members. The Membership Department, working with the Information Technology Department, keeps track of all incoming and retiring members, ensures that dues amounts are calculated properly and reimbursed to branches and state associations on time, and maintains NALC's all-important membership database—our communications link with members.

Branch officers also need to keep close track of their members and their dues payments. Members must keep up their dues payments to maintain good standing and participate in union functions. Branches must keep their membership records current so they can mail newsletters, election ballots and other communications to local members. And local financial officers must track dues payments to ensure the branch receives the income to which it is entitled.
NALC branches can suspend dues for members called to active duty
Any branch desiring to suspend the dues for members of the union called up to active duty should send a request to the national secretary-treasurer at NALC Headquarters. In response to requests from several branches, NALC has decided to waive the national per capita tax for members whose branches request such a suspension. To implement such a suspension, branch presidents must send a letter to the NALC secretary-treasurer identifying the letter carrier (by name, branch number and Social Security number) and requesting suspension of the national per capita tax.
Branches should be aware that implementation of such a suspension will also suspend dues to state associations and branches involved.
Reciprocal agreement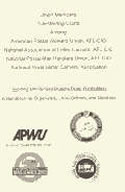 On December 4, 2003, the National Association of Letter Carriers, American Postal Workers Union, National Postal Mail Handlers Union, and National Rural Letter Carriers' Association signed a reciprocal agreement in which:
Each of the four postal unions agrees that whenever one of its members transfers either voluntarily or involuntarily to a position within the bargaining unit of one of the other postal unions, and joins the union representing that bargaining unit, each will grant the member a release, upon request (and in accordance with the procedures established in the agreement) from his or her union membership outside of his or her anniversary window period.
The procedures were established to facilitate the transferring of membership and are outlined in Avoiding Unintended Multiple Dues Withholding; A Handbook for Organizers, Local Officers, and Members, which is available from the NALC Supply Department.
The objective of the handbook is to assist union members and officers in the proper processing of membership dues forms and to help avoid the unintended payment of multiple dues when a member changes from one craft to another craft that is represented by a different union.
Please note: Employees should keep copies of all forms and correspondence and confirm correct deductions by reviewing their bi-weekly pay stubs. Any errors in dues withheld should be brought to the immediate attention of the employee's personnel office and/or union representative.
Membership recognition
Membership cards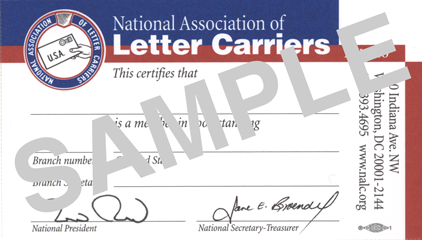 The NALC official membership card bears the union's seal and certifies NALC membership. It shows the member's branch number along with the branch's city and state, and it is signed by the national president and secretary-treasurer, as well as the branch secretary. Membership cards are available from the NALC Supply Department. Call 202-393-4695 for more information.
Lapel pins

The national secretary-treasurer's office handles branch requests for lapel pins for their long-standing members. Branches must comply with the NALC Constitution, Article 2, Section 5(a), in making pin requests. Accordingly, the secretary-treasurer's office can only provide suitable lapel pins "when receiving proper notification by the Branch Secretary" in the year when a member is to complete the following number of years as a member:
25 years
30 years
35 years
40 years
45 years
50 years

55 years

60 years

(pictured here)




65 years
NALC provides authorized pins for 25 years and up at no charge.
Other pins, starting with a 5-year pin and going incrementally every 5 years until year 25, can be purchased through the NALC Supply Department. Click here to find out more.
Longevity rewarded
NALC members who have belonged to the NALC for 50 years or more are awarded life membership with gold membership cards. Once life membership is obtained, dues are no longer required.
To receive a gold membership card, letter of appreciation, and a 50-year pin, the branch secretary must write the NALC secretary-treasurer and request the award for the member. These are the awards available:
50-year gold cards and lapel pins
70-year plaques
75-year plaques
Leadership recognition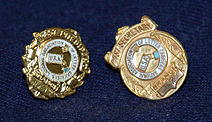 To recognize the contribution of past officers, NALC has created special lapel pins that feature the NALC seal and the words "Past Secretary," "Past President" and "Past Officer." The pins are available through the Supply Department at Headquarters. For products available for order from the Supply Department, click here.