City Delivery resources
Letter Carrier Resource Guide
The Letter Carrier Resource Guide, a comprehensive guide for every letter carrier, is now available in downloadable PDF format on the NALC website. This guide combines, updates, and replaces the 2016 City Carrier Assistant Resource Guide and the 2014 Letter Carrier's Guide. This new all-in-one guide was created for all letter carriers to obtain important information pertaining to every stage of their career. The guide includes updated rights and benefits, and relevant changes to these rights and benefits, as letter carriers progress from city carrier assistant to career status. The guide includes chapters on NALC structure, health benefits, pay, uniforms, workroom floor issues, community service, legislation, and much more.
The online version contains links throughout the guide that will connect you directly to additional relevant information. Click here for the online Letter Carrier Resource Guide.
The NALC Guide to Identifying Intentional False Editing of Clock Rings
The guide was created to assist union representatives when investigating grievances concerning clock ring edits that impact Letter Carriers' pay. The guide provides instruction on reading the TACS Employee Everything Report, examples of improperly edited clock rings, and includes a grievance starter to help build successful case files.
NALC Work Hour Tracker
The NALC has also created the NALC Work Hour Tracker, which is a tool for letter carriers to make sure they are being paid properly for the hours they work. The tracker contains: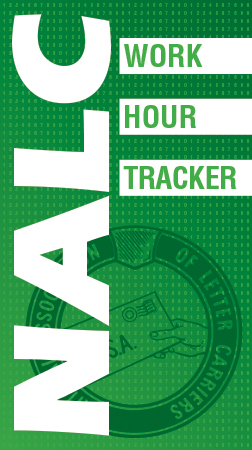 53 pay periods worth of fillable hours tracking forms
A detailed instruction page that explains how to properly track hours and figure overtime for full-time regular, part-time flexible, and city carrier assistant letter carriers
A USPS pay period calendar
A time conversion table
A page for notes on each pay period
NALC Work Hour Tracker is sent to all new members and is also available through your local branch and National Business Agent's Office. An electronic version is available in the MEMBERS ONLY section of this website.

The 2018 NALC Guide to Route Inspections
The 2018 NALC Guide to Route Inspections was created to assist shop stewards and branch officers in identifying contractual violations that take place during management's unilateral six-day route counts and inspections/adjustments, and with filing successful grievances on those violations.
The sections in this guide take you through the inspection in chronological order and provide an easy reference to various provisions and related national settlements that govern route inspections.
There is also a section with detailed descriptions and advice on how to read the various forms, reports and screens used during the route count and inspection process. Once you learn how to read one of our examples, you will be able to understand every one of the same type of form, report, or screen you will ever see.
Note: This is a large file that could take some time to download. Please be patient.
NALC Route Protection Program

NALC Route Protection Program is a comprehensive educational publication explaining route examinations, route adjustments and "minor route adjustments."
Chapter One, Route Examination and the Letter Carrier is intended for letter carriers whose routes are scheduled for a formal six day count and inspection. It contains instructions on filling out the Form 1838-C Worksheet during the week of inspection, a brief outline of how management evaluates and adjusts routes, and advice on how to ensure that the results of the evaluation and adjustment are fair and accurate. Chapter 1 (pdf, 3.71 MB)
Chapter Two, Route Examination and Adjustment for NALC Representatives provides in-depth information focusing on the adjustment process, and is intended primarily for NALC representatives who will assist and advise carriers through the inspection process. Chapter 2 (pdf, 1.81 MB)
Chapter Three, The Minor Route Adjustment Process describes management's use and misuse of the minor adjustment provisions in Section 141 of the M-39 Handbook. Chapter 3 (pdf, 614 KB)
The NALC Route Inspection Pocket Handbook (Updated 2018) This pocket-sized booklet was created to be used by letter carriers as a quick and convenient reference during the week of route count and inspection. This valuable resource was originally published several years ago. It has been updated for 2018 and is available to NALC members through each NBA office and through the NALC Supply Department. The handbook is intended for members only and is

not

available online.
A Guide for Using COR
This guide (M-01766) was created to take the mystery out of the workings of Carrier Optimal Routing (COR) when it is used to generate route adjustments. NALC representatives are encouraged to read this guide in advance of any proposed COR adjustments.
Letter Carrier's Daily Log
At the 2010 National Convention in Anaheim, it was suggested that a daily log be created for letter carriers to use.
In response, the Letter Carrier's Daily Log (PDF) was created. This form has places to record information such as clock rings, mail volume, auxiliary assistance and other daily information letter carriers have an interest in keeping. The form may be printed out, or information may be typed directly into the form so it can be saved electronically.
Time Projection Rules
Projections cannot determine letter carriers' workload
In 2007, the NALC and USPS settled a national-level dispute over management's use of DOIS projections (M-01664) in determining a letter carrier's daily workload. In 2011, the parties further agreed that projections cannot determine a letter carrier's daily workload when they settled a national-level dispute that arose for the Greater Indiana District's use of an "office efficiency tool." This settlement (M-01769) is applicable to any other tool/system/program currently being used or developed in the future to project office and/or street time.
Performance Engagement Tool (PET)
The Performance Engagement Tool (PET) is the latest USPS computer program used by floor supervisors to project a carrier's daily workload. As with DOIS and the "office efficiency tool" created by the Greater Indiana District, PET cannot be used as the sole determinant of a letter carriers' daily workload.
NALC's Guide to the Performance Engagement Tool (PET)
NALC's Guide to the Performance Engagement Tool (PET) was created to help local union representatives understand how PET works and to assist in filing successful grievances related to the improper use of the PET tool.
Letter Carrier Paragraph Grievance Starter
A grievance starter for violations of the Letter Carrier Paragraph is available on the Members Only section of the website. Remember, the Letter Carrier Paragraph deals specifically with overtime on a non-ODL carrier's own route on a regularly scheduled day.
A Guide for Understanding Excessing Rules

This guide was created to try to provide an easier way to understand Article 12. The guide breaks Article 12 down into logical "chapters" through the use of an index of events related to withholding/excessing. When you have a withholding/excessing situation, check the index first and it will direct you to the correct information. Click here to download the guide (PDF).
MOUs regarding Delivery Unit Optimization (DUO) and retreat rights under DUO
In 2011, NALC and USPS reached agreement on two Memorandums of Understanding (MOUs) regarding the issue of Delivery Unit Optimization (DUO). Generally speaking, this is where all the letter carriers in an office are moved to a different Installation and the post office where they used to work stays open with window services.
M-01744 addresses resolving the differences where two or more Local Memoranda of Understanding (LMOU) are involved as well as what happens in the event USPS changes its mind somewhere down the road and decides to move the letter carriers back to the original installation.
M-01745 addresses several issues involved when a Delivery Unit Optimization (DUO) occurs, including who goes, notice period, seniority, hold-down assignments, higher-level assignments (Article 25), and previously approved annual leave. It must be noted that these MOUs do not apply in situations where there are already clear contractual provisions that govern the movement of letter carriers and consolidation of post offices. This point is outlined in both MOUs.
NALC and USPS entered into another Memorandum of Understanding to clarify the intent of the previous DUO agreements as they pertain to the limited circumstance where letter carrier(s) have active retreat rights back to any installation involved in DUO. This MOU (M-01778) requires such retreat rights for letter carriers to be carried forward to the gaining installation.
Letter carriers with active retreat rights to the gaining installation are not altered by this MOU except the order of offering retreat rights may be affected. This is true because the seniority rosters of all installations involved in a DUO are merged.
Additionally, the MOU requires that retreat rights to the original installation will be restored in the event the DUO process is reversed and letter carriers are returned to their original installation.