"Advanced Formal A and Beyond" training program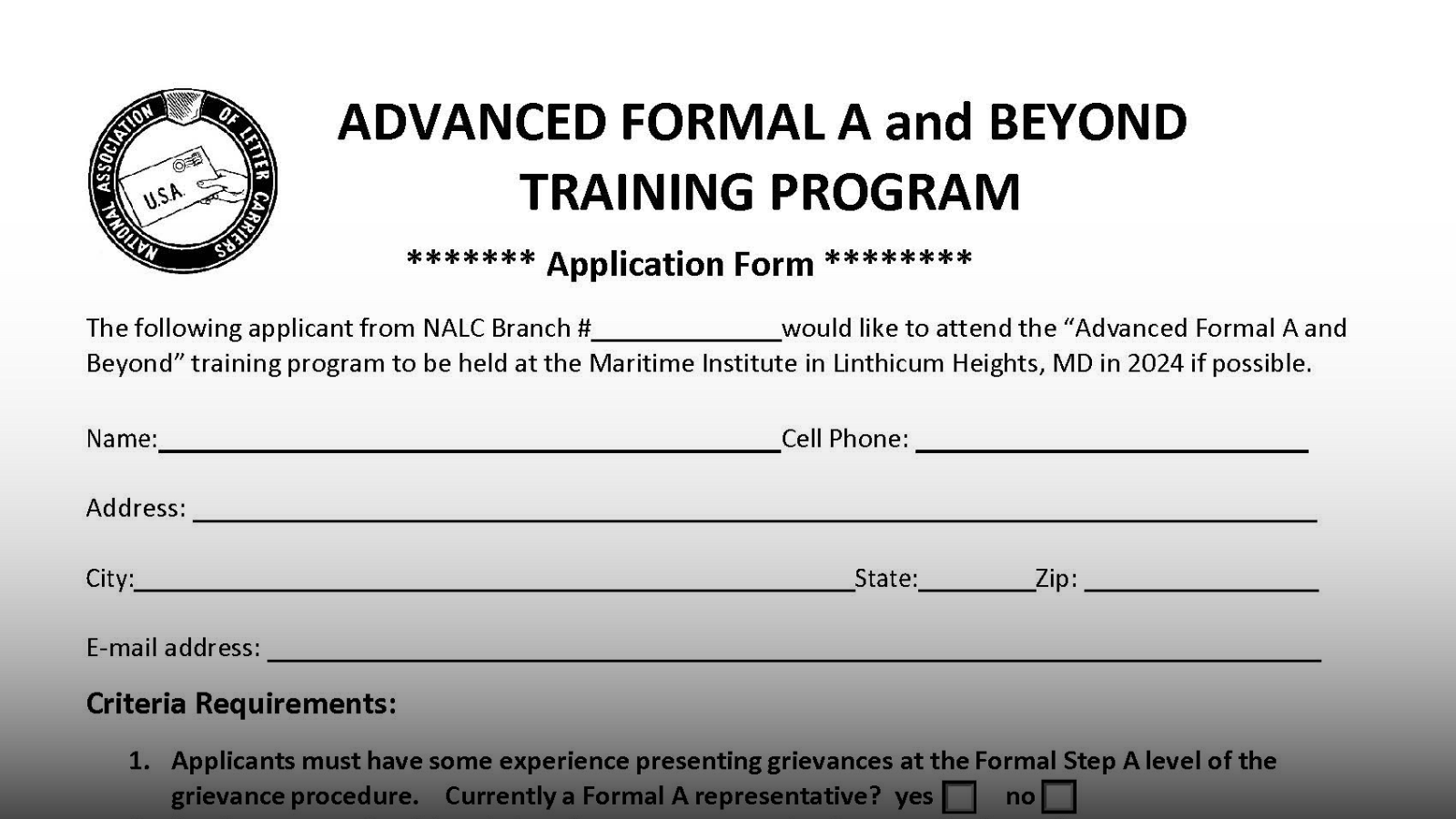 Click here to download the application. Fill it out, save it, print it and mail it to the address at the bottom of the form.
"Advanced Formal A and Beyond" is for NALC activists who have some experience at Formal Step A. The focus of this program is to teach participants to look at every Formal Step A case file from an arbitration advocate's point of view. This training also sharpens the skills needed for enforcing the National Agreement at Formal Step A and provides an experience of what it's like to serve as a Step B representative.
There is a lot of emphasis placed on handling situations where management fails to follow the grievance procedure as required by the National Agreement.
More than 865 NALC activists have been through this training program. Each person who attended this training filled out an exit survey. The general comments from these surveys reflect the fact that, from the participant's point of view, this is an excellent training program.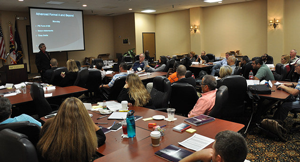 To be accepted to attend this training, applicants must have some current experience presenting grievances at the Formal Step A level of the grievance procedure and be able to bring a Windows-based laptop computer (no Apple products) to the training. (Attendees will be using computers a lot during this week of training and some of the applications we will be using are not compatible with Apple products, hence the restriction on Apple computers for this training program.)
Photo albums of the classes are uploaded to NALC's Flickr account. Members can locate the images they want and download them from there.
You might not consider attending this training because you are already an experienced representative and think it would be a waste of your time and branch resources. However, participants in the classes have had anywhere from a few months to more than 30 years of experience processing grievances at the local level. None of the participants so far have left this training thinking that it was a waste of their time or branch resources.
We have made adjustments to this training program based on suggestions from participants and our own observations. One such suggestion we implemented was to offer an optional additional day of hands-on computer training for those who need/want to take advantage of it. This option has drawn high praise from those participants who have attended the extra day of training. We will continue to offer the extra day of hands-on computer training again this year as an available option.
Details
The Advanced Formal A and Beyond training program is built for 64 participants per class. The goal of the program is to help experienced activists sharpen their skills to process grievances at Formal Step A more effectively. Nothing we do is more important than using the grievance procedure to protect and enforce the contractual rights of our brothers and sisters.
This training program takes the participants from the point of receiving an Informal Step A grievance appeal through all aspects of processing a grievance at Formal Step A to the point of writing a Step B decision.
Each Advanced Formal A and Beyond training session begins on Sunday afternoon and ends on Friday at noon. This training is conducted at the Maritime Institute just outside of Baltimore. This is a union facility that is located just minutes from the Baltimore-Washington International (BWI) Airport. A free shuttle to and from the airport is available. The optional hands-on computer training begins on Saturday afternoon before the Advanced Formal A and Beyond training starts.
The expenses associated with attending this training are paid by the branches that decide to send the participant(s). There have also been a few instances where participants have paid their own way to attend, based on availability and the needs of the Branch.
The price—subject to change—includes room, tax, all meals and refreshments during breaks each day. The cost of the training, for the applicable training dates, is provided on the application.
If you are interested in attending but have not applied yet, click here to download the application. Open it, fill it out, save it, and then print it out and mail it to the address at the bottom of the form. The next available training dates are listed on the application, and once full, those who have submitted applications will have an opportunity to attend a future training session. We will keep your application on file in the order received for the next available scheduled class.
Topics
The following is a list of most of the topics that will be covered and the practice exercises that will be set up for the participants.
Grievance processing topics:
Completing PS Form 8190
Incident date
Issue statements
Time limits
Information/interview requests
Conducting interviews
Documentation
Organizing files
Undisputed facts
Disputed facts and contentions
Remedies
Additions and corrections
Appealing cases to Step B
Other topics:
Effective writing
Burden of proof
Negotiating
Article 16 (just cause)
Rap Session
Hands-on practice exercises:
Presenting grievances at Formal Step A
Writing Formal Step A grievances
Using grievance starters
Computer training—search, cut and paste, etc.
Writing Formal Step A settlements
Researching arbitration decisions
Meeting at Step B
Writing Step B decisions
Special thanks go out to the facilitators: Regional Administrative Assistants Ken Janulewicz (Region 14), A.G. Ramirez (Region 10), John Robles (Region 4) and Allan Rios (Region 1). Guest facilitator presentations: Assistants to the President for the CAU- Greg Dixon, Danielle Fake-Moorman and Jazmin Correa and Regional Administrative Assistant Tonya Detrick (Region 13).