Materials Reference System (MRS)
To open a specific M-number document, enter the number (numbers only—don't insert an "M") and click the Submit button or press your Enter key:
2014 Materials Reference System (MRS) Index and Summaries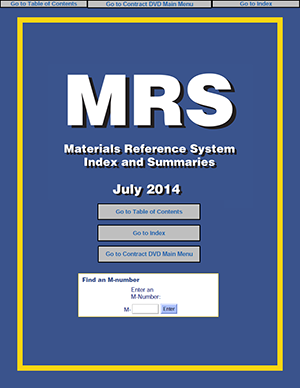 The NALC's Materials Reference System (MRS) Index and Summaries has been updated and contains summaries of key contractual documents and direct links to M-number documents (through M-01838) as well as C-numbered arbitrations. It also includes Defenses to Discipline. The July 2014 MRS is a prime resource for national business agents, regional administrative assistants, NALC branch officers and shop stewards in their duties of enforcing the collective bargaining agreement.
NALC members may access the 2014 MRS Index by clicking on the image at right, or you may save it by right-clicking this link and choosing Save.
Use the box above to find an M-numbered document.
Key MRS documents
Here are summaries of MRS materials numbered M-01709 and higher. Click a link to view the PDF document online, or right-click and choose "Save target as…" or "Save link as…" to download.