Executive vice president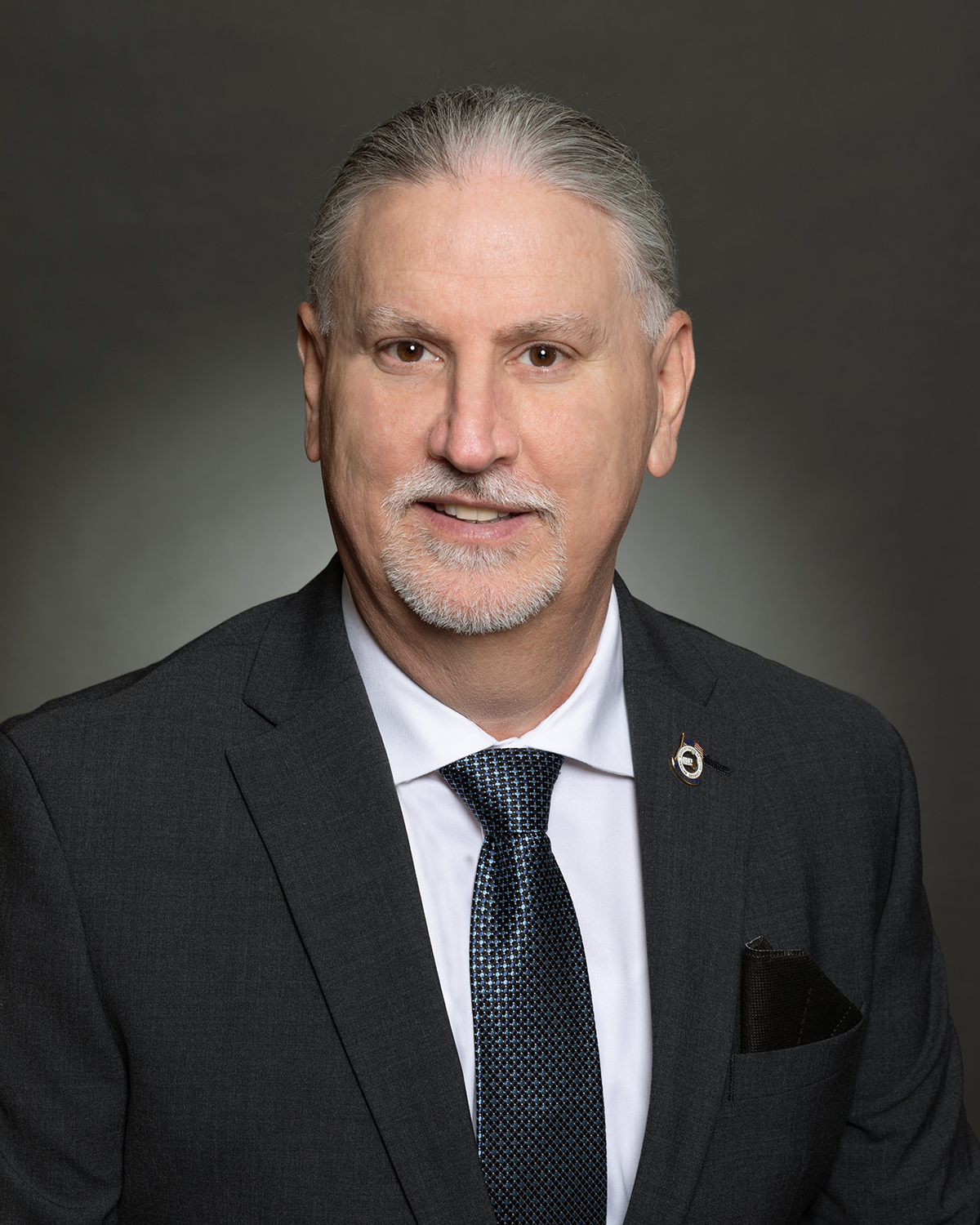 Paul Barner
Executive Vice President
Paul Barner was elected executive vice president in 2022 by mail balloting of NALC members. Full bio
The executive vice president stands in for the president if he or she cannot fulfill his or her duties until the next election.
The executive vice president's duties include overseeing:
Collective bargaining and labor relations
Organizing
NALC's Information Technology Department
Organizing
NALC is by far the best organized open-shop union in America—more than 90 percent of active city delivery letter carriers are NALC members. That is an enviable figure and a powerful sign of letter carriers' collective embrace of this union.

Yet we could, and should, at least be 98 percent organized. All active city delivery letter carriers (full-time and part-time alike) need to be brought into the fold to strengthen our union and to add to our ability to better the working lives of all letter carriers and their families.
The following is a summary of helpful tips listed in the NALC's non-member recruiting booklet, How to Get Yes for an Answer: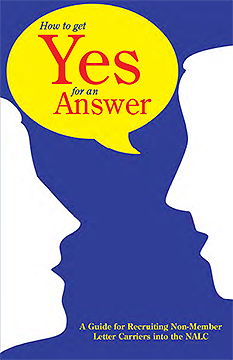 Ask questions

. "Why haven't you joined the NALC? What do you think of it? What do you think of its services?" Let non-members do most of the talking, so you can find out what is on their mind and answer questions.

Listen

. You may have answers to all of their objections, but you'll never know unless you listen.

Show respect

. Everyone has an opinion, and most of us are quite proud of our views. Make each person feel important by taking the time to listen to their ideas. They'll be more likely to listen to what you have to say.

Be patient

. Don't react to anger or hostility. Keep your cool at all times.

Be open

. People are interested in firsthand information. Share some of your own experiences.

Smile

. Make this a friendly meeting. You may have to come back and try again at a later date, so you must keep open the lines of communication.

Be positive

. Put your comments in a positive light. Remember, you have to make non-members want to join the NALC.

Ask questions

in such a way that non-members must answer "yes" from the beginning.
If your branch is looking for tips on how to sign up new members, How to Get Yes for an Answer—A Guide for Recruiting Non-Member Letter Carriers into the NALC is available from the Supply Department at NALC Headquarters.
Motivate members to participate
Once letter carriers join the NALC, motivate them to become involved and stay involved in local branch activities.
One goal of NALC branch leaders is to get as many people as possible involved in union activities. There are obvious, practical reasons why members should participate in branch activities: Projects get accomplished faster and more easily, and when many people share the load, leaders will be less likely to feel overwhelmed.
But there's a deeper purpose for consciously building a participative branch where a high percentage of members work together to meet the branch's goals. Members in such a participative branch feel a sense of community and responsibility to the union and toward each other. By creating ways in which members can get involved in union activities, branch leaders build the strongest possible organization, one where people are deeply committed to all of the union's goals.
People used to think—and many still do—that a union is primarily a service organization, akin to an insurance policy for workers. Members pay dues, and in return they can call on their union representatives to handle grievances, if they ever have any. People who think about their union in this way rarely have any feelings of commitment or concern about it. After all, do you feel committed to your insurance company? Do you care about its goals are, as long as your agent takes care of your needs?
But NALC branch leaders make strong efforts to change members' perceptions of the union to one of a participative community, with everyone pitching in to get things done. And these efforts pay off in many ways.
In a participative branch, the adage "many hands make light work" comes true. But that branch projects are likely to be more successful—and more easily accomplished—is only part of the story.
As letter carriers get involved in branch activities, even if it's as simple as bringing hot dogs to the branch picnic, they gradually become more sensitive to all other aspects of union work. Their commitment—to union bargaining and to legislative goals—is likely to deepen. These involved members become aware of how the branch reaches out to the larger community and labor movement, and they may begin to show interest in those activities as well.
Finally, members of a participative branch are more likely to go to branch meetings, and they may well be willing to take on additional responsibilities—and even leadership roles—in the branch, if called upon.
Such a vision might seem out of reach to many branch leaders, but almost any branch can become more participative, with members fully involved in the NALC's mission of improving the lives of letter carriers and their families as well as of making the U.S. Postal Service the best such service in the world.
Retaining retired members
Among active letter carriers, 92.5 percent are NALC members, a number that makes this union proud. While local activists keep up their great work of organizing active letter carriers, it's also important to remember the many contributions that retired letter carriers can bring to their local branches and can strengthen the national union.
But not every retired letter carrier remains in the NALC. We have thousands of retired carriers on OPM dues-withholding, hundreds more paying dues directly, and approximately 13,500 life members. At any time, there can be as many as 2,000 retirees in "limbo" membership status. Too many NALC members drop their membership when they retire.
Why? Some probably are concerned about finances, since an active carrier's dues can seem like a big bite out of a retiree's budget. But NALC's dues decrease for retired letter carriers! And local and state dues can range from small to nonexistent.
Other retired letter carriers might believe that the NALC only guarantees carriers' rights on the job. But this view misses half of what NALC does. Yes, our union fights for letter carriers, in collective bargaining and in Congress. But we also have a powerful lobbying organization, a vigorous grassroots organization, and a well-funded political action committee. One of our most consistent legislative priorities for decades has been to keep letter carriers' retirement benefits secure.
This NALC is designed, from our constitutional foundation on up, for retired members as well as active members. The NALC Retirement Department goes to bat for retirees, solving problems with OPM and answering members' questions. We publish free booklets about CSRS, FERS and survivor benefits. And retirees are full members who can participate in branch meetings and conventions, can vote, and can run for office.
Leadership Academy
Since 2005, NALC's Leadership Academy has brought together letter carriers representing each of NALC's 15 regions for intensive training and development of the skills effective leaders need.
Under the tutelage of their mentors—established NALC leaders such as branch presidents or national business agents—the students combine three separate weeks of classroom learning at the Maritime Institute in suburban Baltimore with take-home assignments and special projects.
During the classes, students take part in often lively discussions on such subjects as the National Agreement and the union's legislative agenda. They learn about topics such as the Dispute Resolution Process, strategic planning, branch financial responsibilities, retirement issues, DOIS and route protection, workers' compensation, effective negotiation techniques, getting the NALC's message out and dealing with the media.
Each week of the Academy also includes an ongoing emphasis on effective written and oral communication skills in such forums as membership meetings, awards ceremonies and dinners, as well as written reports and oral presentations about their "take-home" projects.
Some Leadership Academy graduates may hold union office; others may simply lead their fellow carriers by inspiring them to support a common goal. All leave with skills and confidence they never thought they would have achieved, thanks to this rigorous but rewarding program.
The mentor also should be in a position to provide time and venues for the student to practice the skills he or she has been building at the Academy, to be available to observe their student's work and to provide appropriate feedback and critique.
Branch presidents or other branch officers often are good choices for mentors.
Each leadership class consists of three separate weeks of instruction on a variety of subjects.
Classes are held at the Conference Center at the Maritime Institute in Linthicum, MD, near BWI Marshall Airport outside Baltimore.
Students are required to complete outside learning projects upon returning home following Weeks 1 and 2, and upon graduation the students will spend a fourth week working in their national business agents' offices.
Transportation, room, meals, lost wages and other costs involved with attending the Academy and working in the business agent's office are paid by the NALC.
For further information about the Leadership Academy, click here.
Apply for the 2024 NALC Leadership Academy
NALC is now accepting applications for the 2024 Leadership Academy, which is open to all active NALC members. Applications are available here and will be accepted until Friday, September 15, 2023.