Mobile apps
NALC Member App
A free app for your iPhone or Android smartphone.
As technology increases our ability to communicate, NALC must stay ahead of the curve. We've now taken the next step with the NALC Member App for iPhone and Android smartphones. The app was developed with the needs of letter carriers in mind.
The app's features include:
Workplace resources, including the National Agreement, JCAM, MRS and CCA resources
Interactive Non-Scheduled Days calendar
Legislative tools, including bill tracker,
individualized congressional representatives and PAC information
Instantaneous NALC news with personalized push notifications and social media access
Much more
To learn more, including download instructions, click here
NALC Work Hour Tracker app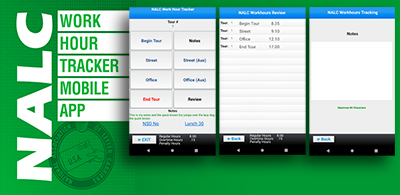 A free app for your Android smartphone (iPhone in development).
The app allows real-time basic clock ring entries such as "begin tour," "office and street moves" and "end tour." It will automatically calculate the number of hours of straight time, overtime and penalty time you should be paid each pay period based on the entries made. Once entries are made in the app, the data will be available in the Members Only portal, where it can be edited, and reports can be printed.
Before using the app, NALC members should first log in to the Members Only portal by going to nalc.org and clicking on the "Members Only" box in the top right corner to log in. (If you haven't logged in, you can still use the app. It will prompt you to create a password.) After downloading the app, the same login information will be used.
To learn more, including download instructions, click here