Legislative activities
To help you understand postal issues and legislation, and where the NALC stands on them, this section contains updates on important legislative issues and bills.
---
U.S. House of Representatives
Click here to get your House representative's contact information.
Events & activities
Many senators and representatives hold town hall meetings and other events during congressional breaks to meet and speak with their constituents. NALC activists are encouraged to attend these events and engage with their representatives on issues of importance to letter carriers and the U.S. Postal Service.
To see if there's an upcoming town hall event near you, go to
The Town Hall Project
and enter your ZIP Code.
U.S. Senate
Click here to get your senator's contact information.
NALC Lobbying Report Form
Click here to download a fillable form for you to report on your lobbying efforts. NOTE: You can not fill out this form in a web browser. You will have to download the file and then open it in the free Adobe Acrobat Reader program. After you fill out the information, select "File > Save as…", give the file a name, and then save it to your computer.
Still having trouble? Click here to download an alternate form you can fill out by hand.
Mail completed forms to NALC Headquarters; the address is at the bottom of the form.
---
Letters to Congress and the White House
Issues and fact sheets
NALC priorities for postal reform
Congress should free USPS to fully leverage its networks and lay the groundwork for long-term, sustainable success that serves the evolving needs of its business and residential customers. NALC calls on Congress to focus on a limited set of common-sense solutions that would strengthen the Postal Service and to avoid damaging its capacity to thrive in the 21st century.
Pre-funding of future retiree health benefits
The U.S. Postal Service has its roots in the United States Constitution. For decades, it has entirely supported itself by the sale of stamps and other postal services—not with taxpayer dollars. The costs associated with the health benefits of USPS' retirees are also covered by these proceeds. In December 2006, a lame-duck Congress passed the Postal Accountability and Enhancement Act (PAEA), a postal reform measure that included a mandate on the Postal Service to "pre-fund" 75 years' worth of health benefits for future retirees. Hard-wired into the law without regard to economic conditions was an inflexible payment schedule that required USPS to pay about $5.6 billion per year over a 10-year period. The more than $12 billion in pre-funding payments the Postal Service made from 2007 to 2009 have since helped turn USPS' healthy income statement a deep shade of red.
USPS innovation and growth
With its unmatched infrastructure and reach to every residential and commercial address at least six days a week, there is unique opportunity for USPS to explore new ways of responding to its customers' continually evolving needs. However, the Postal Service must be freed at least to stay in step with the needs of its customers, if not to move a step or two ahead of them.
Six-day delivery (H.Res. 15)
As it has for generations, the U.S. Postal Service provides affordable universal service as directed by the U.S. Constitution. In 1983, Congress first adopted an appropriations rider that required the Postal Service to deliver mail six days a week, a rider that has been included in every appropriations measure since. And for more than three decades, the Postal Service has been trying to find a way to eliminate that requirement.
NALC supports H.Res. 15, which calls on Congress and the Postal Service to take all appropriate steps to continue six-day mail delivery.
Door delivery (H.Res. 28)
Six days a week, nearly 40 million residential and business customers throughout the country receive packages, letters, bills, medications, supplies and more through door delivery, where a letter carrier delivers the item straight to a customer's door. All of this is part of a unique universal delivery network that is attractive to businesses, evidenced by the fact that the Postal Service is actually operationally profitable.
NALC supports H.Res. 28, calling on Congress to take all appropriate measures to ensure continuation of door delivery for all business and residential customers.
USPS service standards (H.Res. 31)

Before July 1, 2012, the Postal Service's standard for First-Class Mail was overnight delivery in most metropolitan areas and rural communities. But since then, USPS has repeatedly degraded its service standards and embraced a doomed strategy of cutting its way to prosperity, which is why it is increasing the expected number of days it takes to deliver various types of mail.
Windfall Elimination Provision & Government Pension Offset
The Windfall Elimination Provision (WEP) rule, enacted in 1983, reduces the Social Security benefits of those who receive an annuity under the Civil Service Retirement System (CSRS) and who also earned Social Security benefits from other employment. The Government Pension Offset (GPO) rule, enacted in 1977, reduces or eliminates the Social Security spouse or survivor benefits for which a federal retiree may be eligible based on the Social Security record of his or her spouse.
Since at least the 109th Congress, there have been many attempts to fashion legislation to address these unfair rules. On Feb. 21, Reps. Rodney Davis (R-IL) and Adam Schiff (D-CA) introduced the Social Security Fairness Act (H.R. 1205), a bill that calls for repealing these provisions.
The Synthetics Trafficking and Overdose Prevention (STOP) Act of 2017 (H.R. 1057 and S. 372) proposes to regulate international mail operations and apply private shipper customs rules to the USPS. It would impose huge costs and penalties on USPS that, unlike private shippers, could not be recovered by charging other nations' postal operators or their customers, and it would threaten a disruption of the free flow of letters, flats and packages across international borders.
In polling places all over the country, time and again, election results are skewed by malfunctioning equipment, human error, and untrained poll workers. Voting through the mail fixes these problems by relying on something Americans trust: the United States Postal Service. Democracy is at its best when every citizen casts a vote. The National Association of Letter Carriers is convinced that mail-in voting could help ensure that every citizen can participate in our nation's democratic process.
Many state legislatures consider passing bills that would create "Do Not Mail" registries to prevent mailers from sending direct mail to those who sign up, just as "Do Not Call" registries prevent homes from receiving calls from telemarketers. However, a "Do Not Mail" registry would be an extremely negative development for letter carriers, mailers and postal patrons alike.
Who we are: Veterans, community leaders, neighbors
The National Association of Letter Carriers represents 277,000 active and retired letter carriers who live or work in virtually every community in America, and serves as the exclusive collectivebargaining representative for the 204,000 active city letter carriers employed by the U.S. Postal Service. We are just as dedicated to preserving affordable, high-quality, universal mail and package delivery service for all American businesses and households as we are to defending our members.
But we are so much more than this.
Congressional calendar, 115th Congress, Session 2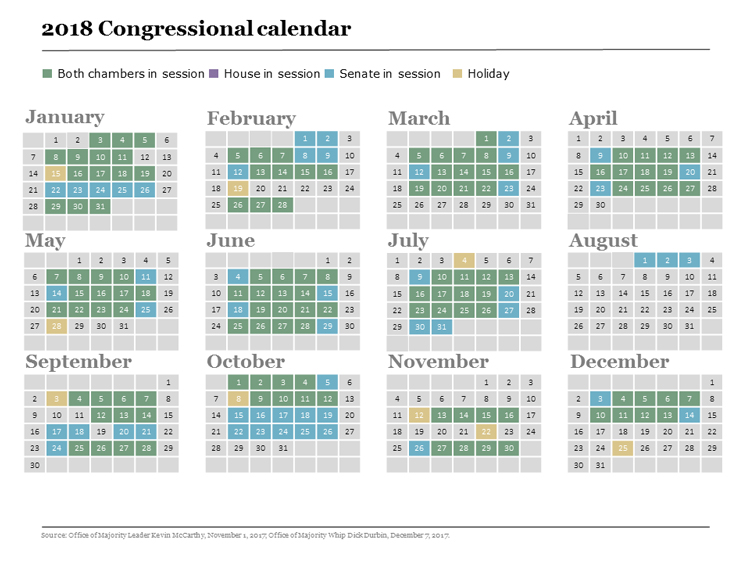 ---
Congressional bill tracker
An updated bill tracker for the 115th Congress will be posted soon.