Legislative Updates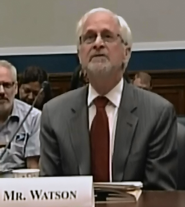 Today, the House Education and Workforce Committee's Subcommittee on Workforce Protections held a hearing on reforming workers' compensation for federal employees. Testifying before the committee was NALC Director of Retired Members Ron Watson.
Seated behind Watson while he provided testimony were five NALC members who personally sustained injuries on their routes:
Denver, CO Branch 47's Dan Hohenstein
Columbus, OH Branch 78's Doug Poole
Seattle, WA Branch 79's Keith Wagner
Garden Grove, CA Branch 1100's Joel Cabrera
New Hampshire Merged Branch 44's Dave Betts
Also in attendance was Shirley Rondeno, widow of New Orleans, LA Branch 124's Roy Rondeno, who died from injuries sustained on the job. (Click here to read more about these letter carriers' stories.)
In his testimony before the committee, Watson said that "the NALC welcomes the prospect of reform to the Federal Employees' Compensation Act, provided it does not result in unfair harm to the injured workers the FECA was designed to protect."
"Any such reform should be consistent with the basic principle that injured workers should be no better off and no worse off as a result of suffering an on the job injury," he said.
The Department of Labor (DOL) has proposed reforming FECA by reducing wage replacement benefits for injured workers with dependents, benefits for widows/widowers and children of those killed on the job, and up to 33 percent of benefits for all disabled workers at the time they reach retirement age.
"I am disappointed that the Department of Labor would come forward for the third time in the past five years with a proposal to cut benefits for injured workers that is not evidence-based, and whose justification has been completely debunked by the Government Accountability Office," Subcommittee Ranking Member Bobby Scott (D-VA) said. "I find it incomprehensible that we are now considering whether to take $500 million from middle class workers—and their families—who have suffered a disabling work-related injury while doing their jobs in service to the American people."
"We cannot make budget cuts on the backs of injured federal workers and families who have lost a loved one," said Education and Workforce Committee Ranking Member Frederica Wilson (F-FL). "As regrettable as it is, workplace injuries and deaths do occur. When they do, we must ensure that the workers who have committed themselves to federal service are honored by a system that does not leave them and their families financially worse off than if the injury or death had not occurred."
Watson noted NALC's support for the Federal Workers' Compensation Modernization and Improvement Act (H.R. 2465), which passed the House in the 112th Congress with bipartisan support. Watson urged the committee to embrace a bill similar to H.R. 2465, since it met the fairness test and would have provided cost savings.
The expired legislation contained provisions that would have authorized treatment by physicians' assistants and advanced-practice nurses, given ready access to Social Security earnings information, and allowed for subrogation of continuation of pay.
Watson also discouraged the committee from incorporating proposals that would reduce wage-loss compensation for injured workers with dependents, and further reductions when workers reach retirement age.
In his testimony, Watson drew attention to letter carriers who have suffered traumatic injuries when they were crushed between oncoming vehicles and their mail trucks.
"What message will be sent to workers who lose their livelihoods and careers from work-related injuries?" said Watson. "There is no evidence that FECA benefits need to be reduced, unless DOL is simply following the practice of some states in arbitrarily cutting workers' compensation benefits without regard to the consequences.
"The NALC supports FECA reform that meets the test of fairness," Watson said. "However, every reform proposal should be consistent, as a basic principle, with the intended remedial nature of the FECA."
The panel also included testimony from Department of Labor Inspector General Scott Dahl, Office of Workers Compensation Programs Director Leonard Howie III and Government Accountability Office Education Director Andrew Sherril.