Legislative Updates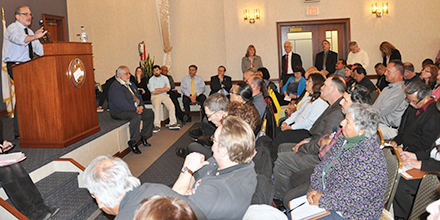 Feb. 23 through 26, more than 150 letter carriers came to Washington, DC, to participate in NALC's advocacy efforts as the 114th Congress was getting down to business.
NALC members from Arizona, Colorado, North Dakota, South Dakota, Texas, Wisconsin, Wyoming, Alaska, Idaho, Montana, Tennessee, Alabama, Arkansas, Oregon, Washington, Utah, Indiana, Illinois, California, Nevada, Hawaii, Louisiana and Missouri were on Capitol Hill to advocate on NALC's behalf.
"These NALC members embraced a great opportunity to show Congress the many hats that letter carriers wear," NALC President Fredric Rolando said. "We are military veterans, we are neighborhood leaders, and we are often the eyes and ears of the communities we serve."
Primary among the issues the activists discussed was the importance of being involved and engaging community allies. Emphasis was also placed on the improved financial standing of the USPS and how critical it is to get this message out to the public and to Capitol Hill.
NALC members then took to the Hill to discuss the importance of keeping six-day mail delivery, maintaining service standards, holding on to door-to-door delivery and addressing pre-funding.
Carriers also advocated for viable postal reform options that incorporate both stakeholder input and input from new key players on the relevant House and Senate committees.
These NALC members then returned to their home states, ready to continue to build coalitions, meet with community allies and engage elected officials.
NALC members are once again taking the opportunity to use our union's strong grassroots network, and the NALC's regional field coordinators are looking forward to working with state legislative chairs, congressional district liaisons (CDLs), and other supporters in all 15 NALC regions to get their fellow members active.