Legislative Updates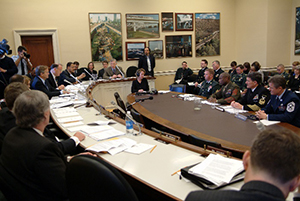 When members of Congress first come to Washington, their parties' leaders will let them know on which committees they will serve. It's a process that happens at the beginning of each Congress (that is, every two years), and shifts in assignments can occur for a variety of reasons.
Committees are an integral part of the legislative process; when a bill is first introduced, it's immediately assigned to a committee, which can decide whether to hold hearings on it or kill the bill on arrival. It's through these committee assignments that members become experts in particular policy areas, often overseeing how bills are marked up and listening to testimony from experts.
By dividing up Congress' legislative, oversight and internal administration tasks, these committees are responsible for:
gathering information,
comparing and evaluating legislative alternatives,
identifying policy problems and proposing solutions,
reporting legislation for the full chamber to consider,
monitoring executive branch performance, and
investigating allegations of wrongdoing.
Although there are 26 House committees and 20 Senate committees, just eight total committees and subcommittees oversee issues relevant to the NALC. Check out the committees below and see whether your representatives in Congress are overseeing policy affecting letter carriers and the postal community.
Senate committees
Senate committee assignments of particular importance to letter carriers
House committees
House committee assignments of particular importance to letter carriers
---