Legislative Updates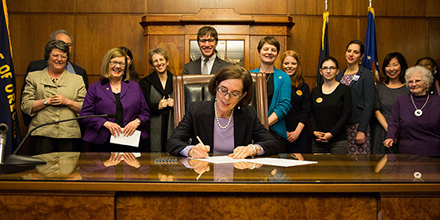 This week, Oregon Gov. Kate Brown signed an automatic voter registration bill into law.
The law will automatically register residents to vote if a transaction was recorded between the resident and the state's Department of Motor Vehicles since 2013.
The announcement is a major win for voters and the U.S. Postal Service, since Oregon is a vote-by-mail state. It is estimated thate the bill will add 300,000 new voters to its rolls (and thus is expected to generate at least 300,000 new pieces of mail).
Voting by mail is one of the most effective ways to increase electoral participation, made possible by the Postal Service, America's largest delivery network. The NALC looks forward to helping deliver ballots to tens of thousands of new Beaver State voters.
"We are highly encouraged to see this positive taking place in Oregon," NALC President Fredric Rolando said. "Increasing voters' participation in the electoral process is a good thing, while increasing mail volume is vital to the continued financial recovery of the Postal Service."