Legislative Updates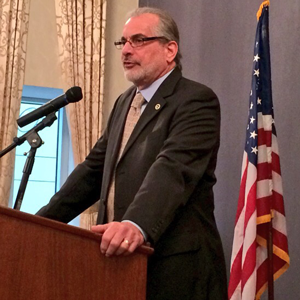 Another wave of letter carrier activists descended on Washington, DC, this week when more than 100 NALC members from the state of New York came to town to advocate for support for letter carrier concerns.
The top issue during these congressional office briefings was the importance of supporting resolutions for preserving six-day mail delivery (H. Res. 12), door delivery (H. Res. 28) and service standards (H. Res. 54).
Much of New York's congressional delegation has already supported letter carriers in the 114th Congress by co-sponsoring these resolutions, but there continue to be many pressing issues that letter carriers discussed with their members of Congress this week, such as educating representatives about the postal perspective regarding Fast Track as well as our concerns over anti-federal and anti-postal worker proposals that are aimed at reducing our pay and benefits.
The legislative visit also provided letter carriers with a unique opportunity to engage with and educate freshman members of Congress on the roles that carriers play in their communities and congressional districts.
These activists received a legislative briefing that morning from Director of Legislative & Political Affairs Kori Blalock-Keller, which was followed by an afternoon of lobbying on Capitol Hill. Later in the day, NALC President Fred Rolando addressed activists and answered their questions.
In the evening, activists hosted a congressional reception at NALC Headquarters, featuring remarks from Reps. Chris Gibson (R-19th), Sean Patrick Maloney (D-18th), Charles Rangel (D-13th) and (D-12th).
Rep. Carolyn Maloney

Rep. Sean Patrick Maloney

Rep. Charles Rangel

Rep. Chris Gibson