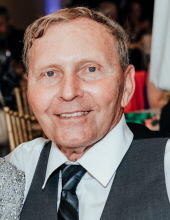 NALC is deeply saddened to learn of the death of Roger Jenkins on Jan. 10, 2022.
Roger began his career as a letter carrier in 1971, and he was a retired member of Erie, PA Branch 284. Throughout his career, Brother Jenkins served the union in several different positions including as a shop steward, congressional liaison and route inspection team member. He was the current secretary of the Pennsylvania State Association of Letter Carriers. Roger also formerly served in the Army National Guard.
Roger is survived by his wife Mary Jane, his daughter Wendy and his two grandchildren Allie and Krystopher. He was 74.
"For decades, Brother Jenkins served the NALC at the local, branch and state levels," NALC President Fredric Rolando said. "We are grateful for his service, and we mourn his loss. We send our deepest condolences to his family, friends and colleagues."