NALC Track Hours App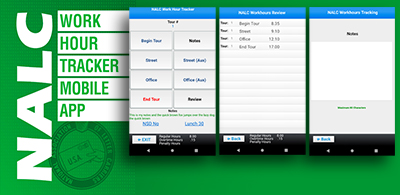 For a year, NALC has developed tools for NALC representatives and letter carriers to use to ensure that clock ring editing by supervisors is accurate.
NALC has seen too many cases of times being inappropriately edited. Sometimes such edits affect the evaluation of a letter carrier's assignment or route, whether on a daily basis or during a route count and inspection.
In some instances, managers were deliberately changing the end-of-tour clock rings made by letter carriers to reflect an earlier time while they were still working. These edits ranged from just a few minutes to several hours of time spent on the clock being taken away from employees. Obviously, these edits resulted in letter carriers receiving paychecks that were less than they had earned. Throughout the cities where this took place, letter carriers were shorted tens of thousands of dollars in pay.
NALC representatives in those cities were able to identify these cases and were able to make the affected letter carriers whole for the pay they rightfully earned and should have initially received. However, it's important for letter carriers to monitor the hours they work and the pay they ultimately receive themselves as well. We want to be sure that letter carriers have the tools to do so.
The first tool developed was a pocket-sized book that can be used to record clock rings on a daily basis. Along with this pocket book, we created The NALC Guide to Identifying Intentional False Editing of Clock Rings. It is available online at nalc.org/workplace-issues/city-delivery/city-delivery-resources. This guide shows NALC representatives how to identify inappropriate edits and how to address them through the grievance procedure.
The most recent tool is the NALC Hour Tracker app developed for smartphones. The app is currently available on Android devices in the Google Play store. As of this writing, we were still in the testing process with Apple and we hope the app will be available in the App Store soon.
Before using the app, NALC members should first log in to the Members Only portal by going to nalc.org and clicking on the "Members Only" box in the top right corner to log in. After downloading the app, the same login information will be used.
The app allows real time basic clock ring entries such as "begin tour," "office and street moves" and "end tour." It will automatically calculate the number of hours of straight time, overtime and penalty time you should be paid each pay period based on the entries made. Once entries are made in the app, the data will be available in the Members Only portal, where it can be edited, and reports can be printed.
NALC appreciates the feedback we've received already. The union will continue to work to update and improve the app in the future.

How to access the NALC Track Hours app on your iPhone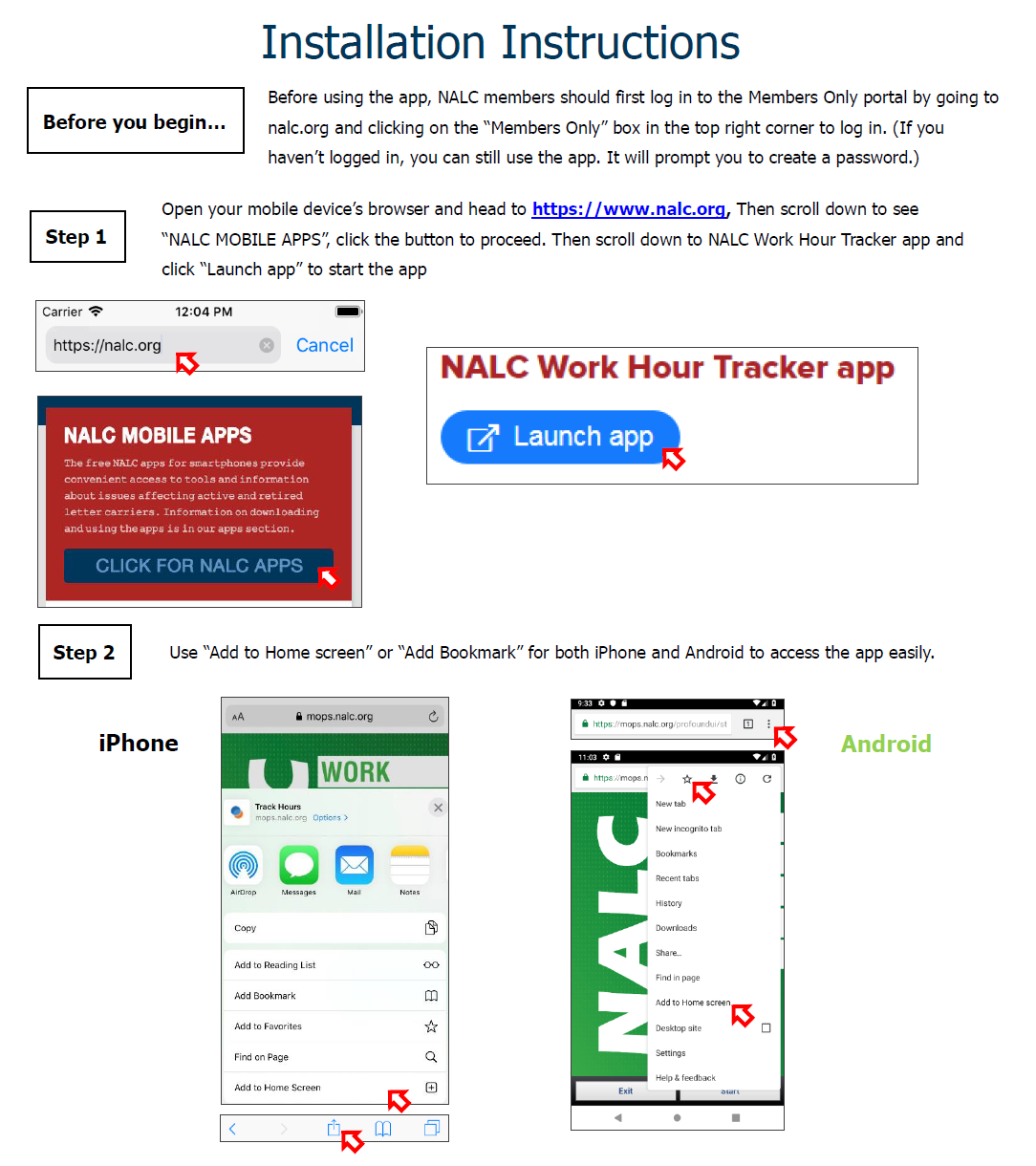 Privacy Policy for NALC Track Hours
This page is used to inform visitors regarding our policies with the collection, use, and disclosure of Personal Information if anyone decided to use our Service.
If you choose to use our Service, then you agree to the collection and use of information in relation to this policy. The Personal Information that we collect is used for providing and improving the Service. We will not use or share your information with anyone except as described in this Privacy Policy. The terms used in this Privacy Policy have the same meanings as in our Terms and Conditions, which is accessible at NALC Track Hours App unless otherwise defined in this Privacy Policy.
Information Collection and Use
While using our Service, we may require you to provide us with certain identifiable information, including but not limited, such as your NALC Membership Account. The information that we request will be retained by us and used as described in this privacy policy.
We want to inform you that whenever you use our Service, in a case of an error in the app we collect data and information (through third party products). This Log Data may include information such as your device Internet Protocol ("IP") address, device name, operating system version, the configuration of the app when utilizing our Service, the time and date of your use of the Service, and other statistics.
Cookies and HTML 5 Local Storage
Cookies are files with a small amount of data that are commonly used as anonymous unique identifiers. These are sent to your browser from the websites that you visit and are stored on your device's internal memory.This Service does not use these "cookies" explicitly. However, the app may use third party code and libraries that use "cookies" to collect information and improve their services.
Service Providers
We may employ third-party companies and individuals due to the following reasons:
To facilitate our Service;
To provide the Service on our behalf;
To perform Service-related services; or
To assist us in analyzing how our Service is used.
We want to inform users of this Service that these third parties have access to your Personal Information. The reason is to perform the tasks assigned to them on our behalf. However, they are obligated not to disclose or use the information for any other purpose.
Security
We value your trust in providing us your Personal Information, thus we are striving to use commercially acceptable means of protecting it. But remember that no method of transmission over the internet, or method of electronic storage is 100% secure and reliable, and we cannot guarantee its absolute security.
Children's Privacy
These Services do not address anyone under the age of 13. We do not knowingly collect personally identifiable information from children under 13. In the case we discover that a child under 13 has provided us with personal information, we immediately delete this from our servers. If you are a parent or guardian and you are aware that your child has provided us with personal information, please contact us so that we will be able to do necessary actions.
Changes to This Privacy Policy
We may update our Privacy Policy from time to time. Thus, you are advised to review this page periodically for any changes. We will notify you of any changes by posting the new Privacy Policy on this page. These changes are effective immediately after they are posted on this page.