Legislative Updates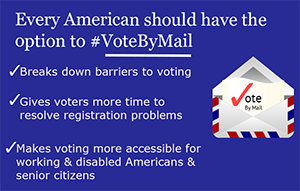 Sen. Ron Wyden (D-OR) has launched a new campaign to expand the Oregon-style vote-by-mail program nationwide, as a way of tearing down barriers to voting.
Wyden's plan includes the appropriation of funds to the U.S. Postal Service to assist with the mailing of ballots during federal elections.
"Across the country, there are stories of long lines, inexplicable purges of voter rolls and new requirements that make it harder for citizens to vote," Wyden said. "There is no excuse for citizens in Arizona to wait five hours to cast their ballot."
Wyden's proposal calls for requiring every state to provide registered voters the opportunity to cast their ballots by mail and to transition away from polling stations.
"There's no excuse whatsoever for poor communities and minority communities across this country to see their polling places shuttered," Wyden said.
Oregon became the county's first all-vote-by-mail state in 2000, and since then it has consistently ranked No. 1 in terms of voter turnout. The state's law has implemented security measures such as a signature-authentication system.
Numerous studies have found that vote-by-mail improves voter turnout while decreasing government expenditures. A 2003 study by the University of Oregon found that almost one-third of registered voters in the state cast their mail-in ballots more often—particularly women, people who are disabled, homemakers, and those 26 to 38 years old.
Meanwhle, Colorado's secretary of state found that, had all of that state's counties conducted elections solely by mail in 2010, the state would have reduced costs by $1.05 per registered voter.