Legislative Updates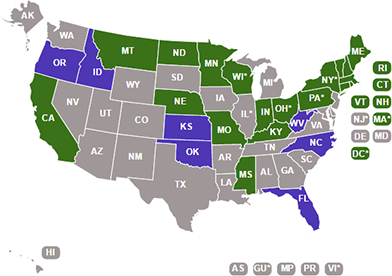 With the new year underway, state legislatures and general assemblies across the country are preparing to kick off their legislative sessions, or already have done so.
In fact, over the weekend, Kentucky's legislature quickly passed anti-labor "right to work," prevailing wage and "paycheck deception" bills.
State legislative sessions vary in length and each state's session operates differently. The governing bodies in 19 states have already convened.
Letter carriers frequently undertake initiatives in their states around subjects such as vote-by-mail and voter registration. NALC encourages members to share with the Department of Legislative and Political Affairs any progress on such initiatives or to call the department at 202-393-2833 if you have any questions. We will continue to monitor state-level legislation that affects letter carriers.
To find your state representative and senator, click here.
The following table outlines when each state's legislature is scheduled to convent and adjourn in 2017.
| | | |
| --- | --- | --- |
| | Convenes | Adjourns |
| Alabama | 2/7/2017 | 5/31/2017 |
| Alaska | 1/17/2017 | 4/16/2017 |
| Arizona | 1/9/2017 | 4/22/2017 |
| Arkansas | 1/9/2017 | 3/9/2017 |
| California | 12/5/2016 | 9/15/2017 |
| Colorado | 1/11/2017 | 5/10/2017 |
| Connecticut | 1/4/2017 | 6/7/2017 |
| Delaware | 1/10/2017 | 6/30/2017 |
| Florida | 3/7/2017 | 5/5/2017 |
| Georgia | 1/9/2017 | 3/24/2017 |
| Hawaii | 1/18/2017 | 5/4/2017 |
| Idaho | 1/9/2017 | 3/31/2017 |
| Illinois | 1/11/2017 | 5/31/2017 |
| Indiana | 1/3/2017 | 4/29/2017 |
| Iowa | 1/9/2017 | 4/18/2017 |
| Kansas | 1/12/2017 | 5/15/2017 |
| Kentucky | 1/3/2017 | 3/30/2017 |
| Louisiana | 4/10/2017 | 6/8/2017 |
| Maine | 12/7/2016 | 6/14/2017 |
| Maryland | 1/11/2017 | 4/10/2017 |
| Massachusetts | 1/4/2017 | 11/15/2017 |
| Michigan | 1/11/2017 | 12/31/2017 |
| Minnesota | 1/3/2017 | 5/22/2017 |
| Mississippi | 1/3/2017 | 4/2/2017 |
| Missouri | 1/4/2017 | 5/12/2017 |
| Montana | 1/2/2017 | 4/25/2017 |
| Nebraska | 1/4/2017 | 6/2/2017 |
| Nevada | 2/6/2017 | 6/5/2017 |
| New Hampshire | 1/4/2017 | 6/30/2017 |
| New Jersey | 1/10/2017 | 1/9/2018 |
| New Mexico | 1/17/2017 | 3/18/2017 |
| New York | 1/4/2017 | 12/31/2017 |
| North Carolina | 1/11/2017 | 8/1/2017 |
| North Dakota | 1/3/2017 | 4/26/2017 |
| Ohio | 1/2/2017 | 12/31/2017 |
| Oklahoma | 2/6/2017 | 5/26/2017 |
| Oregon | 2/1/2017 | 7/10/2017 |
| Pennsylvania | 1/3/2017 | 12/31/2017 |
| Rhode Island | 1/3/2017 | 6/30/2017 |
| South Carolina | 1/10/2017 | 6/1/2017 |
| South Dakota | 1/10/2017 | 3/27/2017 |
| Tennessee | 1/10/2017 | 4/14/2017 |
| Texas | 1/10/2017 | 5/29/2017 |
| Utah | 1/23/2017 | 3/9/2017 |
| Vermont | 1/4/2017 | 5/8/2017 |
| Virginia | 1/11/2017 | 2/25/2017 |
| Washington | 1/9/2017 | 4/23/2017 |
| West Virginia | 2/8/2017 | 4/8/2017 |
| Wisconsin | 1/4/2017 | 12/31/2017 |
| Wyoming | 1/10/2017 | 3/6/2017 |