Legislative Updates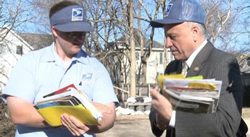 On Tuesday, Rep. Steve King (R-IA) paid a visit to the local post office in Mason City, IA. There, Iowa State Association Vice President Herb Copley, who is also the NALC's congressional district liaison (CDL) for the district, showed the congressman some of the ropes of being a letter carrier.
As a part of his visit, King explored a standard long-life vehicle (LLV), and he sorted, carried, and delivered mail on a route.
Members of Mason City Branch 471 also had an opportunity to discuss with King a number of important issues, such as the pre-funding mandate, six-day mail delivery, door-to-door delivery, and maintaining service standards. The congressman pledged to "look into" supporting measures to protect six-day delivery, such as H.Res. 12.
"This trip today and carrying some mail in Mason City brings just enough interest that I'm likely to go right back to Washington and do that," he said.
It is encouraging to see members of Congress vocalizing support of six-day delivery. NALC encourages you to engage your congressional representatives and to bring them greater awareness of postal issues.