Legislative Updates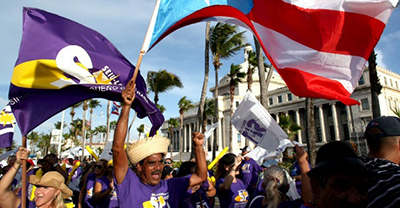 On June 29, the Senate held a final vote to approve the Puerto Rico Oversight, Management, and Economic Stability Act (PROMESA), S. 2328 and H.R. 5278. The package rescues Puerto Rico from a $72 billion debt crisis and comes just two days before the U.S. territory was set to default on a $2 billion debt payment.
The island has been forced to make increasingly drastic spending cuts and tax hikes to meet its obligations to creditors. In addition to a 12.2 percent unemployment rate, the territorial government has laid off tens of thousands of public employees, raised its sales tax from 7 percent to 11.5 percent, and closed 10 percent of its schools since 2014. Its poverty rate is now at an alarming 45 percent.
The legislation came under much attention after it failed to receive support before Puerto Rico was forced to default on a payment of more than $400 million on May 1. At the time of the default, lawmakers from both parties, and the Obama administration, were not ready to sign off on an earlier draft of the bill. Specifically, Republican leaders were worried that the package would be seen as a bailout, and Democrats were uneasy about worker protections in it.
Many labor unions—including AFSCME, SEIU, UAW and UFCW—as well as the AFL-CIO also were concerned, since the bill fails to protect accrued pension benefits, maintain worker protections, support the existing minimum wage or respect the Puerto Rican peoples' democratic rights. One of the most controversial provisions of the bill reduces the federal minimum wage from $7.25 to $4.25 an hour for workers 25 years old and younger.
While Democrats, Republicans, and the Obama administration have all stated that the bill is imperfect, the immediate deadline lead lawmakers to call it Puerto Rico's best hope to avoid a July 1 default. The final measure puts a halt to credit lawsuits against the island while providing a pathway for debt restructuring. It also establishes a seven-member oversight board to manage the island's finances.
Puerto Rico's non-voting member of Congress, Resident Commissioner Pedro Pierluisi, who was heavily involved in crafting the bill, said he was "extraordinarily grateful" for the result.
"Nobody is happy that PROMESA is necessary," Pierluisi said. "But I am firmly convinced that it is the best legislative solution to a terrible problem that my constituents confront as a result of decades of unequal treatment at the federal level and mismanagement at the local level."
President Obama has promised to sign the legislation into law and to begin working with congressional leaders to nominate individuals to sit on the oversight board.