Legislative Updates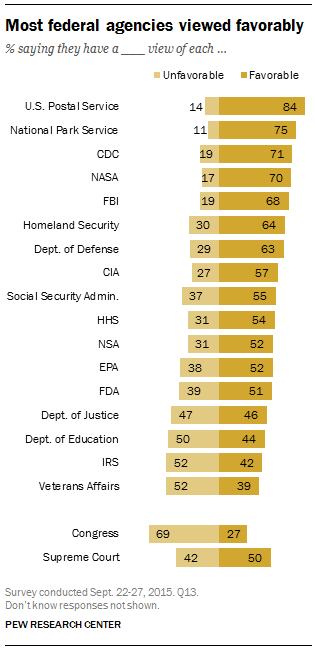 A national poll conducted by the Pew Research Center has again shown that the U.S. Postal Service is the most favored among all federal agencies.
"This honor recognizes the hard work and dedication of letter carriers and everyone who works for this venerable agency," NALC President Fredric Rolando said. "I'm confident that as the public face of the Postal Service, letter carriers will continue to do what we can to ensure that our employer maintains and even strengthens that trust."
The national survey's findings, released on Nov. 23, were based on more than 6,000 interviews conducted by Pew between the end of August and the beginning of October. Favorable ratings were provided by 84 percent of those surveyed—up one percentage point from a similar survey conducted in 2010.
Rounding out the top five agencies were the National Park Service with 75 percent, the Centers for Disease Control and Prevention with 71 percent, the National Aeronautics and Space Administration with 70 percent and the Federal Bureau of Investigation with 68 percent.
What entity was at the bottom of the list? Only 27 percent of those polled gave a favorable rating to Congress, the same body that has not yet eased the financial burden it created under the 2006 postal law that requires USPS—alone among government agencies and private enterprises—to pre-fund 75 years' worth of future retiree health benefits and to do so over a 10-year period.
While the study found what it called "substantial partisan gaps" in the views of several federal departments and agencies, the Postal Service was not one of those entities. In fact, 89 percent of Democrats polled, including those whose political views lean to the left, held a favorable view of USPS, only 11 percentage points higher than Republican and right-leaning respondents.

Pew found that public attitudes about government and politics are not easy to categorize. "In general, the federal government continues to be viewed less favorably than state and local governments," its survey report said. "The last time the federal government was viewed as favorably as state and local governments was in the period after the 9/11 terrorist attacks and during the early phase of the Iraq War.
"A year ahead of the presidential election," the Pew report added, "the American public is deeply cynical about government, politics and the nation's elected leaders in a way that has become quite familiar."