Legislative Updates
The Senate Permanent Subcommittee on Investigations held on May 25 a hearing to discuss Sen. Rob Portman's (R-OH) STOP Act of 2017 (S.372) and the effects it would have on the U.S. Postal Service. (An identical bill in the House is H.R.1057.)
The measure would amend a previous act to ensure that any merchandise arriving in the United States through the mail would be subject to review by U.S. Customs and Border Protection and would require the advanced electronic tracking of all packages and large envelopes mailed to the United States.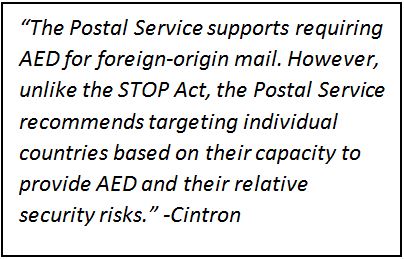 Portman and his supporters argue that the bill would assist U.S. law enforcement in halting opioid-trafficking into the country and thereby help limit an epidemic that has killed thousands. They were specifically concerned with stopping the influx of fentanyl, a synthetic opioid many times stronger than heroin that they claim is often shipped by mail into the states from China.
Postal and State Department officials both pushed back during this hearing, suggesting that many countries do not have the capacity or infrastructure to comply with the technological demands of such a requirement. They argued that the global postal system is simply incapable of adapting to an electronic shipping data system as advanced as our own, and that only 40 to 50 percent of countries can provide such services.
"Compliance with the STOP Act would require the suppression of inbound mail to the United States," said USPS Vice President of Network Operations Management Robert Cintron. "The STOP Act would also impose enormous new costs upon the Postal Service—costs of approximately $1.2 billion to $4.8 billion over 10 years have been estimated based on our understanding of the current language.
"The blocking of inbound mail destined for the United States could also lead other countries to block outbound mail originating in the United States," Cintron said, causing additional negative impacts on U.S. businesses as well as on the Postal Service.
While the intent of the bill may be to prevent harmful and potentially lethal drugs from entering the country, NALC opposes the bill in its current form as the requirements severely undermine USPS by placing an additional financial hardship on the agency