Legislative Updates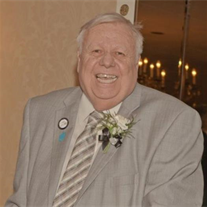 The Senate Committee on Homeland Security and Government Affairs has unanimously approved legislation (S. 2891) that would name the post office at 525 N. Broadway in Aurora, IL, as the "Kenneth M. Christy Post Office Building."
Christy, the former president of the Illinois State Association, died on March 26.
The Senate activity follows the House Committee on Oversight and Government Reform's passing of the original companion bill (H.R. 4960) on May 17. Now, both bills await floor consideration in their respective chambers.
As is customary with postal-naming legislation, once the bills clear the House and Senate, the measures are likely to be attached to some non-controversial "must pass" bill, or to be approved by unanimous consent, before the president will sign the measure into law.
"Ken Christy's life-long service to the Aurora community will never be forgotten," Sen. Mark Kirk (R-IL) said. "Naming a post office in his honor is a fitting tribute to remember a man who dedicated his life to public service."