Legislative Updates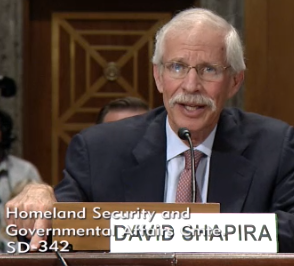 On June 10, the Senate Homeland Security and Government Affairs Committee (HSGAC) held a hearing on U.S. Postal Service Board of Governor nominee David Shapira.
Shapira was chairman, chief executive officer and president of Giant Eagle, a Pittsburgh-based supermarket chain with more than 200 locations in Pennsylvania, Ohio, West Virginia, Indiana and Maryland. He served at Giant Eagle from 1980 to 2012 and, by all accounts, he had a positive working relationship with the United Food and Commercial Workers (UFCW) union.
During the hearing, both of Shapira's home state senators, Bob Casey (D) and Patrick Toomey (R), gave short statements of support for Shapira. "We are lucky he is willing to serve," Toomey said.
In his testimony, Shapira said the Postal Service is "a bedrock of this country."
"If you are rich or poor, live in a rural or urban community, and regardless of your creed, you will receive reliable, affordable service," he said.
HSGAC Committee Chairman Ron Johnson (R-WI) questioned Sharpiro on USPS' ability to keep up with competitors' new technology. Sharpira said the Postal Service must continue serving the needs of its customers while becoming innovative in finding new ways to serve them.
"You continue to do what you are doing but diversify," he said. "Bring in new products that can protect your best asset: First Class Mail."
Ranking Member Sen. Tom Carper (D-DE) paid particular interest to how Shapiro would find the right balance of growing USPS' business and meeting responsibilities.
"You can't cut and grow," Shapira answered. "I believe in being financially efficient, but cutting services to keep cost down is a doomed strategy."
Following the hearing, the committee advanced Shapira's nomination with little fanfare, signaling wide bipartisan support for the nominee. NALC supports Shapira's nomination.
In a statement following the hearing, Carper affirmed his support for Shapira.
"The Postal Service operates at the center of a global printing, delivery, and logistics industry that employs millions of people," Carper said. "The Board of Governors serve a vital role to navigate the organization's financial outlook and strategy.
"As a leader of a $10 billion company with nearly 40,000 employees, David Shapira would bring a unique business perspective and valuable insights to the Board," he said.
Right now, six of the nine presidentially appointed seats on the Board of Governors are vacant. The board no longer has a quorum because the Senate has failed to confirm nominees.
The seven-year terms of eight of the nine appointed members have expired, and two governors are now serving their so-called hold-over year, provided by law to give Senate leaders and the president time to name replacements.
Last fall, before losing its quorum, the board delegated its power to a "temporary emergency committee" composed of the remaining members.
President Obama has made four other nominations to the Board of Governors this year. Read more about them, and NALC's thoughts on them, in a cover story in the May Postal Record.