Legislative Updates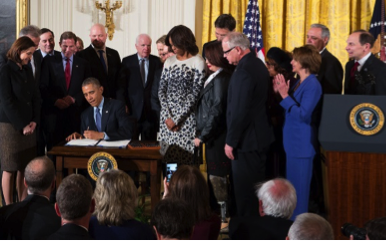 Today, President Barack Obama signed into law the Clay Hunt Act Suicide Prevention for American Veterans Act. The legislation is named for Clay Hunt, a U.S. Marine who served in Iraq and Afghanistan and struggled with depression and post-traumatic stress after returning home.
Clay committed suicide in 2011 at the age of 28.
"America is here for you," Obama said. "And we will never stop doing everything in our power to get you the care and support you need to stay strong and keep serving this country we love."
The new law aims to give improved access to mental health services for members of the Armed Forces, veterans and their families. Specifically, the bill:
requires annual third-party evaluations of VA's mental health care and suicide prevention programs,
creates a centralized website with resources and information for veterans about the range of mental health services available from the Department of Veterans Affairs, and
requires collaboration on suicide prevention efforts between the VA and non-profit mental health organizations.
Additionally, the law creates a three-year pilot program to help doctors repay education loans relating to psychiatric medicine.
As implementation of the law is carried out, NALC will monitor the Secretary of Veterans Affairs' annual reports to Congress regarding the progress of the pilot program.