Legislative Updates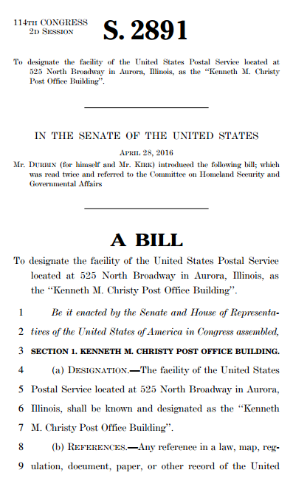 Sens. Mark Kirk (R-IL) and Dick Durbin (D-IL) have introduced a bill to name an Aurora post office after the late Ken Christy, the Illinois State Association president who died unexpectedly in March.
The bill, S. 2891, is a companion piece of legislation to the House's version. Aurora was Christy's hometown.
"Ken Christy was one of the strongest voices for working people," Durbin said. "He dedicated himself to the men and women who worked for the U.S. Postal Service. He has been a best friend for 20 years and I am going to miss him."
When the House bill was introduced, NALC asked its Illinois members to as their members of Congress to co-sponsor the measure. Largely because of that momentum built by Illinois' letter carrier activists, every House representative from Illinois, and now both of the state's senators, has signed onto the legislation.
As is customary, once the entire state congressional delegation has co-sponsored post office–naming legislation, the appropriate House committee need to pass the measure and send it to the House floor for consideration. S. 2891 is expected to follow suit.