Legislative Updates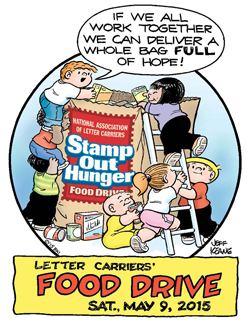 This week, Rep. Pat Tiberi (R-OH), along with initial co-sponsors Joyce Beatty (D-OH), Steve Chabot (R-OH), David Joyce (R-OH), Marcy Kaptur (D-OH) and Tim Ryan (D-OH), introduced H. Res. 170, a resolution to recognize the NALC's annual "Stamp Out Hunger" Food Drive.
Since 1992, NALC has helped communities across the country by holding a national one-day food drive. Before that, letter carriers had actively worked on food drives at the local level with a great deal of success, so NALC, after holding pilot food drives in 10 cities—including Columbus, Ohio—decided to roll it out nationally.
Last May, letter carriers and dedicated volunteers helped collect almost 73 million pounds of non-perishable food, bringing the total to more than 1.3 billion pounds of food collected since the national drive began.
This year's drive is on Saturday, May 9.
"Letter carriers care deeply about the communities we serve," NALC President Fredric Rolando said, "and we are uniquely qualified to recognize, respond and combat the issue of hunger in communities through our annual food drive."
For more information about this year's food drive, click here.