Legislative Updates
Congress annually considers 12 appropriations measures that provide funding for federal agencies and general government operations. Every year, NALC lobbies Congress to ensure resolutions that support six-day mail delivery, door delivery and service standards are included as the spending packages move forward.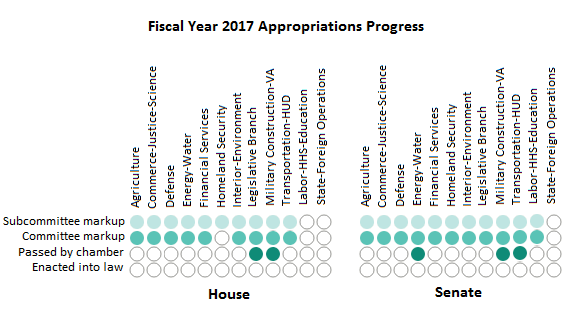 Between 1997 and 2012, Congress only passed all 12 bills on-time in four years (1977, 1989, 1995 and 1997). Every other year has seen the need for at least one continuing resolution (CR), which simply keeps spending levels equal to the year prior. Since March 2012, Congress has been solely relying on short-term CRs to prevent a government shutdown.
To learn more about the stages of the budget process, click here.
This year's appropriations process, however, is significantly more different than ever before.
No spending ceilings
Traditionally, appropriations subcommittees receive spending limits for their spending packages, guiding lawmakers to provide allocations appropriately. These are known as "302 (b) allocations," after the 302 (b) section of the Congressional Budget Act of 1974. This year, the Majority did not provide subcommittees with these spending caps, leaving members of Congress unable to determine spending priorities.
Shorter timeframe to mark up bills
This year's August recess has a notable difference from years past: Lawmakers are actually returning to their districts on July 15. While members frequently have the entire month of June and July to continue marking up appropriations bills, the Majority has given lawmakers one of the largest breaks ever. As a result, there are only a few legislative days remaining.
What's next?
It's unlikely that either chamber will be able to consider the majority of spending bills that are before Congress this year, leaving lawmakers with several options, including:
passing an omnibus appropriations bill, where bills are combined and passed;
passing a continuing resolution, where current levels of funding are extended for an agreed-upon time; or
shutting down the government.